Model, actress and environmentalist Lily Cole has launched an exclusive jewellery line in collaboration with Sky Rainforest Rescue – Sky and WWF's partnership to help save one billion trees in the Amazon rainforest.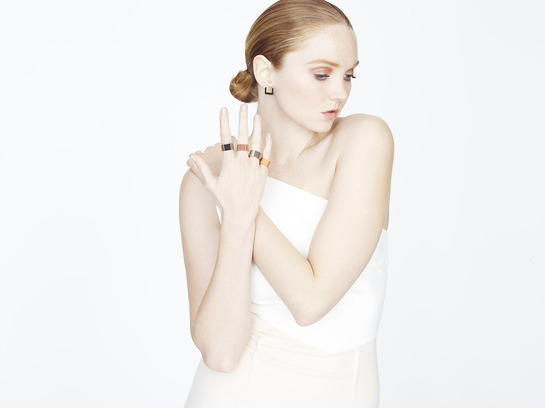 The limited-edition collection will be bringing a piece of the rainforest to the UK, using Amazonian wild rubber sourced solely from rubber tappers in the Sky Rainforest Rescue project area in Acre, Northwest Brazil. The classic collection features a two-way rubber pendant, earrings, bracelet and ring set with delicate rubber embellishment. Available in feminine pastel tones as well as timeless black, the collection offers the perfect accessory for Spring and Summer 2013.
The collection is stocked exclusively with online retailer Stylistpick.com, with 100% of the profits going back to the rainforest to support Sky and WWF's work to help save one billion trees by making the forest worth more alive than dead to the local communities.
As ambassador for Sky Rainforest Rescue, Lily is exploring ways for rainforest people to make a living without cutting down the forest. Acre state was once a global centre of rubber production but, having been out-competed by cheaper unsustainable synthetic and plantation rubber, many of Acre's rural communities have turned to other productive activities that can be more damaging to the forest, such as agriculture and livestock. The jewellery aims to raise awareness for the viability and versatility of Amazonian wild rubber, which is one of the products of the forest that can give local communities an alternative option that keeps trees standing.
Lily Cole commented, "One of the reasons I was excited to join this campaign was to explore the rubber industry as a vehicle for green economics, which, if scaled, I see as offering real hope to the rainforest. Visiting the rubber tappers and their families really inspired me and I wanted to find a way to bring their story back to the UK. This jewellery collection is just one example of how wild rubber can be used. However, if in the future the value of wild rubber can exceed what can be made from products that cause deforestation, then there is the real potential for a sustainable green economy."
The collection went on sale on June 3rd exclusively at Stylistpick.com.