The chance to win a visit from double Olympic champion swimmer Rebecca Adlington is up for grabs for local schools and businesses who sign up to Royal Manchester Children's Hospital Charity's fundraising campaign, Be Seen in Green sponsored by Ryman Stationery.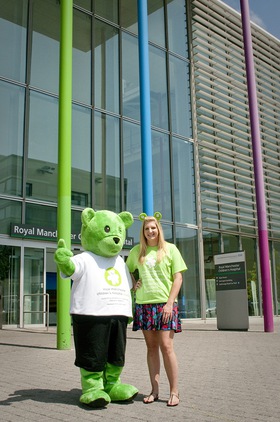 The campaign asks participants to wear something green, the colour of the charity, to school or work in return for a £1 donation to the charity.
Schools and businesses registering before 14th June will be entered into a draw to win a VIP visit from Becky, who will take part in a Q&A session and personally thank all those taking part for their support of the charity.
The Be Seen in Green campaign has been sponsored since its launch in 2011 by Ryman, the UK's leading specialist stationery and office supplies company, whose chairman is Theo Paphitis, longtime star of BBC's Dragon's Den.
Theo said: "I hope that this summer you will choose to support Royal Manchester Children's Hospital, a charity which I myself have been proud to support on both a business and personal level for the last five years."
Becky, who was awarded the OBE in 2009 for services to sport, has recently moved to the North West from her hometown of Mansfield. Earlier this month she paid a visit to the Children's Hospital, meeting young patients on the oncology and Elective Treatment wards.
She said: "Having seen for myself the extraordinary work undertaken every day by the staff of Royal Manchester Children's Hospital, I am very proud and pleased to support the Be Seen in Green campaign. The money raised by the charity does so much to make being in hospital a much more comfortable and less frightening experience for their young patients.
"Be Seen in Green is a very simple way for schools and businesses to show their support for this fantastic cause and to raise funds that will make a genuine difference to poorly children from throughout the North West."
Funds raised by this year's campaign will be donated to the hospital's specialist burns unit, the largest of its kind in the country. Patients attending the burns unit have suffered from a wide range of thermal injuries which are extremely painful and can require years of treatment and aftercare.
The charity is hoping to raise £135,000 throughout the year to fund a project of therapeutic artwork, designed to reduce the clinical feel of the environment in which a patient is treated, thus providing a powerful distraction from their pain and distress, which lessens stress and can help to speed up a child's recovery.
Toni Leden, Acting Head of Charity for Royal Manchester Children's Hospital, said: "We are thrilled to have a sports star of Rebecca's calibre lending her support to our fundraising campaign. To have achieved so much at such an early age makes Becky a truly outstanding role model for all young people and we very much hope that her involvement will encourage a great many schools and businesses to take part in this year's Be Seen in Green day."
All organisations that apply before the 5th July will be sent a free fundraising pack and will also be entered into a prize draw to win £500 of stationery from campaign sponsor Ryman.
Royal Manchester Children's Hospital Charity is raising money to ensure continued excellence in treatment, care and research at the hospital – improving the lives of thousands of children each year across the North West and beyond.
The support of the Charity means that the hospital can provide additional resources that make life easier for patients and their families who use the hospital.
The charity has three main areas of work:
• to support research projects to improve our understanding of children's illnesses
• to help to create an environment that's more child-friendly
• to provide state-of-the-art equipment for diagnosis and treatment.
Find out more about Be Seen In Green here.