SodaStream, whose mission is to eliminate bottles and cans to significantly reduce our global carbon footprint, awarded environmentalist, author and fashion designer Lauren Conrad with the SodaStream UnBottle the World Award.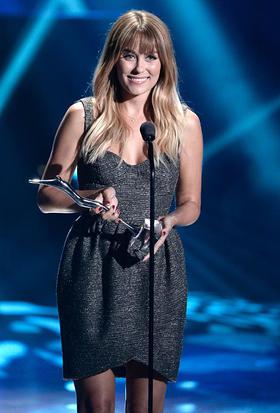 Conrad was honored at week's Young Hollywood Awards for her environmental commitment. Her XO (eco) accessories line has upcycled more than three million bottles and kept over 128 million disposable alternatives out of landfills.
"I'm thrilled to have received this honor," stated Conrad. "My XO (eco) line intersects fashion and sustainability, which I deeply believe is the future. My goal is to inspire the next generation to be bold, creative and kind to the environment."
"Lauren Conrad, much like SodaStream, is a green trailblazer in the creation of solutions for a more sustainable tomorrow," stated SodaStream CEO, Daniel Birnbaum. "It is important that we acknowledge the efforts made by young Hollywood and we are honored to recognize Lauren Conrad as the first recipient of the SodaStream UnBottle the World Award."
SodaStream's innovative home carbonation system offers consumers a solution to free themselves from bottles and cans. Using a sleek, compact home soda maker, anyone can transform plain water into fresh, fizzy soda in seconds without the lugging, storing and disposal of plastic bottles and aluminum cans. SodaStream bottles are made from BPA-free PET plastic, are reusable for up to 3 years and wholly recyclable at the end of their life cycle. Each SodaStream bottle can replace up to 2,000 traditional store bought bottles and cans and help eliminate the massive amounts of natural resources needed to manufacture and transport bottles and cans of soda and sparkling water all around the world.