With the sounds of a revving race engine, Richard Petty Motorsports (RPM) and Eckrich-sponsored NASCAR Sprint Cup Series driver Aric Almirola made a different kind of pit stop Thursday evening in Ann Arbor, Michigan.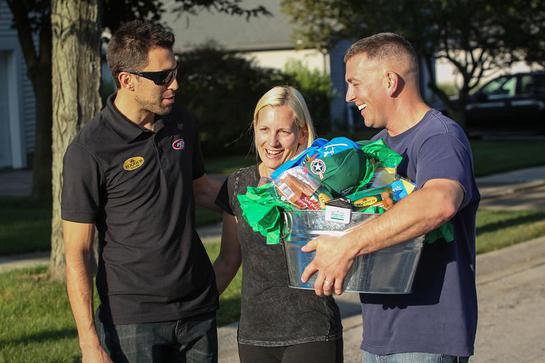 And it was all to the surprise of military family, the Kotts, in their own driveway. Almirola drove a replica of the famed No. 43 Eckrich stock car right up to the house of Sergeant First Class Howard Kott and his wife Dawn to surprise them with the opportunity to be honorary crew members yesterday at the Michigan International Speedway.
Eckrich, part of the John Morrell Food Group, a subsidiary of Smithfield Foods, and Operation Homefront have worked together the past two years to support and thank military men and women and their families. The event continues that partnership with Eckrich-sponsored Almirola saying thanks in this once-and-a-lifetime manner. Once Almirola stepped out of the car, he surprised the Kott family by presenting them with crew uniforms and VIP passes and then asked them to be part of the famed No. 43 team on Sunday.
"We just heard this loud noise and came out to see Aric just driving the No. 43 down the street. He even set off someone's car alarm," said Howard Kott. "We are so excited and can't wait to get to the track on Sunday. This is really cool."
But Eckrich and Almirola weren't done honoring the family just yet. In addition to the VIP crew member experience, Eckrich brought a gift basket that Almirola presented, including Eckrich No. 43 hats, water bottles and plenty of Eckrich products. The family was also given a pace car ride around the track on Sunday, attended the driver's meeting with Almirola and were introduced to the race crowd with "The King" Richard Petty prior to the start of the race.
"We want to keep recognizing, honoring and thanking our military veterans, wounded warriors and their families," said Almirola. "They have made a tremendous sacrifice for us to enjoy our freedom and to allow me to race each weekend. It's just a lot of fun to give back and say thanks in a different way. Eckrich and Operation Homefront are really good at doing that."
Added Howard, "All of this is just a little overwhelming but in a good way. Sometimes we don't know what the next day will bring, so this is really cool for Eckrich and Operation Homefront to provide an opportunity like this."
Sergeant First Class Howard Kott is currently active in the Army and has been deployed twice for service.
"The Kotts are a perfect example of who we are honoring and thanking for their service and sacrifice," said Chuck Gitkin, vice president, marketing, innovation and R&D for the John Morrell Food Group. "To give back to them, with this unique experience is just as rewarding for us as it is to them. Our relationship with Operation Homefront allows us to make that happen and we're honored to work together to support these families and also to make surprises like today's event happen."
To learn more about Operation Inspiration, please click here.