Through a partnership with the Red Sox Foundation, the Tiger Woods Foundation has selected five Boston-area scholars who were awarded Earl Woods Scholarships.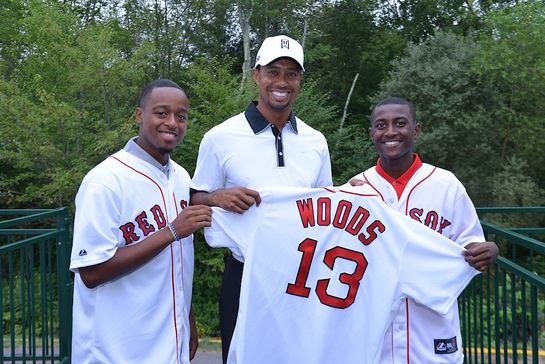 These exceptional students, selected based on criteria established by both organizations, will be part of the Tiger Woods Foundation's Earl Woods Scholarship Program, an incredible support network that provides tuition assistance, dedicated mentors, admissions counseling and specialized workshops to each student during their four years in college.
This partnership originated through the Deutsche Bank Championship, New England's premier PGA TOUR Playoff event, of which the Tiger Woods Foundation has been the charitable beneficiary since 2003. Each year The Championship, held over Labor Day Weekend, welcomes 100 of the PGA TOUR's top golfers to TPC Boston in Norton, Mass.
The announcement was made at the Deutsche Bank Championship on Thursday afternoon during a ceremony commemorating the partnership. One of this year's scholarship recipients, Jamal Adan, and the Tiger Woods Foundation's first Boston-area scholar, Vladimir Casseus, presented Tiger Woods with a Boston Red Sox jersey. Woods was joined by Jeff White, Financial Advisor to Red Sox President and CEO, and Gena Borson, Red Sox Foundation Executive Director and Director of Special Events.
On Friday, August 30, as the Red Sox prepared to take on the White Sox, Adan and fellow scholarship recipient Shirley Peng, along with Tiger Woods Foundation President & CEO Greg McLaughlin, were recognized and introduced in a pre-game ceremony at historic Fenway Park.
Adan, a first-generation college student whose parents and six siblings immigrated to the US from Africa, will head to Boston University in the fall to pursue a degree in international business, while Peng, who grew up with her father and two brothers in East Boston, will begin her college career at Boston College.
"We are thrilled to partner with the Red Sox Foundation on this exciting initiative," McLaughlin said. "The Red Sox Foundation has a long history of important work in the Boston community, and we are excited this partnership will support five local college students on their journey to success."
"This new partnership with the Tiger Woods Foundation will expand on the important work of mentorship and financial assistance for Boston area students that has long been a focus for the Red Sox Foundation," said Red Sox Foundation Honorary Chairman Tim Wakefield. "We are pleased the Earl Woods Scholarships will give access to college to even more students from our community, and look forward to working with the Tiger Woods Foundation on selecting worthy, academically talented students in the years to come."
Adan and Peng join three other students as the new Boston Earl Woods Scholars – Lenny Baez, majoring in Kinesiology at San Jose State University, Adreina Nieves, a Biology major at Syracuse University and Mikaya Emma, an International Affairs major at University of North Georgia.
Vladimir Casseus, the Tiger Woods Foundation's first Boston scholar who is pursuing his Master's Degree in School Psychology at Tufts University, will be singing the national anthem at the game. Casseus received his undergrad in Psychology at College of the Holy Cross in 2012, then spent a year working at City Year Boston helping mentor high school students and keep them on the track to graduation.
Source: BusinessWire.com