When it comes to frying up a feathered feast, there may be no better experts than bearded duckmen Si and Jase Robertson.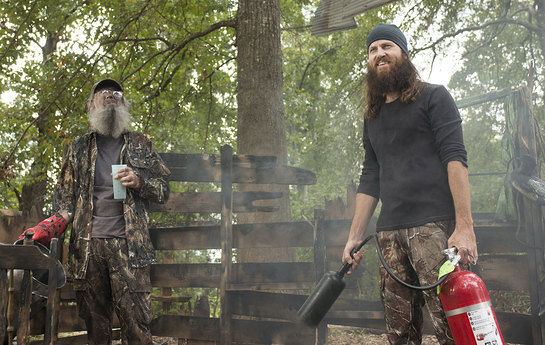 As members of the Duck Commander family, they know how to be safe when frying a bird. That is why they have teamed up with insurer State Farm to reinforce the importance of turkey fryer and cooking safety this holiday season with a brand-new video titled Hang on a Minute with Jase and Si Robertson.
The video captures the importance of turkey frying safety in a humorous yet educational way by cautioning viewers to "hang on a minute and think before you fry". Regardless if the person frying the bird is experienced or a novice, everyone should take appropriate safety precautions prior to frying. Jase and his uncle Si have been frying turkey for years without incident because they recognize the dangers and take the proper safety measures to reduce their risk of a fire.
Cooking fires are the number one cause of home fires and home injuries. Based on data from State Farm, more cooking fires occur on Thanksgiving than any other day of the year. The good news is that State Farm cooking fire claims on Thanksgiving Day have been reduced from 66 claims in 2010 to 29 claims in 2012, the lowest number of claims in a decade.
While the reduction is significant, the fact remains there are still injuries and damage to property as a result of turkey frying or cooking fires each year. November is the number one month for grease and cooking related fire and December is the second highest month.
According to State Farm Insurance claims data, the top states for grease and cooking-related claims on Thanksgiving Day (2005-2012) are:
Texas 38
Illinois 27
Pennsylvania 23
Ohio 23
New York 22
South Carolina 16
Georgia 16
*Largest increase in State Farm cooking fire claims on Thanksgiving Day from 2011 to 2012 was in Georgia, which jumped from 1 claim to 4 claims
Minnesota 15
Michigan 15
California 14
**Largest decrease in State Farm cooking fire claims on Thanksgiving Day from 2011 to 2012 was in California, which fell from 6 claims to 0 claims
Indiana 14
Louisiana 14
Florida 14
Most turkey fryer and cooking fires are preventable. Recognizing common mistakes is a critical step in reducing your risk of a fire or potentially fatal burns. Before you break out your bird this holiday season, remember to hang on a minute and do it right.
Cooking Safety Tips
• The leading cause of fires in the kitchen is unattended cooking. It's important to be alert to prevent cooking fires.
• Have a "kid-free zone" of at least 3 feet around the stove and areas where hot food or drink is prepared or carried.
• Keep anything that can catch fire — oven mitts, wooden utensils, food packaging, towels or curtains — away from your stovetop.
• Keep an extinguisher approved for cooking or grease fire nearby.
Turkey Fryer Safety Tips
• More than one-third of fires involving a fryer start in a garage or patio. Cook outdoors at a safe distance from any buildings or trees and keep the fryer off any wooden structures, such as a deck or patio.
• Avoid a hot oil spill over by first filling the pot with cold oil and then lower the thawed turkey into the pot to determine how much oil should be either added or removed.
• Shut off the fuel source or flame when adding the turkey to the hot oil to prevent a dangerous flare-up if oil does spill over the rim.
• Make sure your turkey is properly thawed before lowering it slowly into the pot.
• Never leave a hot turkey fryer unattended.
• Do not use ice or water to cool down oil or extinguish an oil fire.
• Keep an extinguisher approved for cooking or grease fire nearby.
Source: Multivu.com