Hope Paige, makers of fashionable medical ID accessories, has teamed up with star of The Big Bang Theory, as well as the 90s' NBC series Blossom and Emmy nominee Mayim Bialik to create a customized bracelet that will raise awareness for illnesses close to Mayim's heart such as epilepsy, cancer, diabetes and allergies.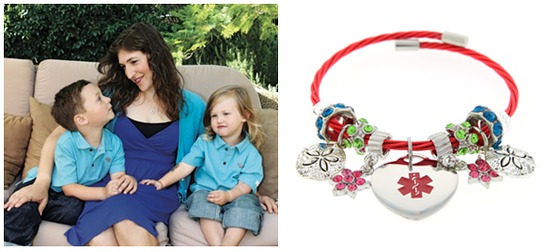 Mayim's bracelet is available for purchase online at www.hopepaige.com and 100% of profits from sales will go towards the Golisano Children's Hospital at the University of Rochester Medical Center.
As a philanthropist, mother of two, actress and style maven, Mayim created her bracelet to provide a stylish alternative to medical ID jewelry and raise awareness for a great cause, potentially saving a life.
"Hope Paige Medical ID bracelets can help save a child's life during an emergency," said Mayim. "I am designing a stylish and life-saving bracelet to benefit the building of the Golisano Children's Hospital at the University of Rochester Medical Center."