Daryl Farmer, 39, from West Sussex in England, will be attempting to set a world record by rowing single-handed 2,100 nautical miles across the Pacific Ocean from California to Hawaii as a competitor in the first Great Pacific Race which begins in Monterey, US, in June this year.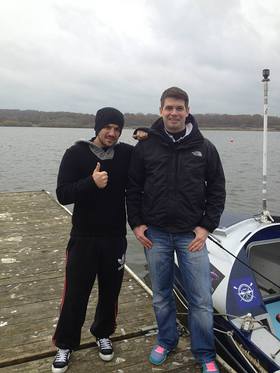 Fewer people have rowed solo across the Pacific Ocean than have walked on the moon. The current record for this particular ocean rowing route is held by Mick Bird, who rowed it single-handed in 1997 in a time of 64 days. Daryl, rowing under the name of 'Rowing 4 Reefs', is no stranger to taking on incredible challenges having completed both the Marathon de Sables (150 miles across the Sahara) and the Jungle Marathon (140 miles through the Amazon rainforest). Now, inspired by other adventurers like single-handed rower Roz Savage MBE, and James Cracknell amongst others, and committed to raising funds for the Peter Andre Foundation, supporting Cancer Research UK, and for ocean conservation organisation, Earthrace, he has his sights set out to sea.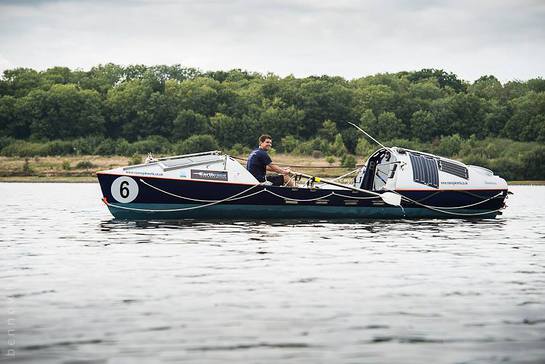 Daryl's boat, 'Bojangles', is made from a special carbon/Kevlar foam sandwich construction and was built with the Pacific in mind. She is one of the strongest, most proven and sought-after ocean rowing boats in the world, already in the record books as the first and only rowing boat to successfully complete a crossing of the Pacific West to East with its crew of Mick Dawson and Chris Martin (Race Director, Great Pacific Race) in 2009.
Peter Andre, speaking about Daryl's challenge, said: "I just want to say that I think he is doing an amazing thing by rowing solo across the Pacific Ocean to raise funds for my Foundation and Cancer Research UK. This cause has now become dear to my heart so I support him all the way."
Pete Bethune, founder of Earthrace Conservation, current world powerboat speed record holder for circumnavigating the globe and one of the stars of Animal Planet's 'Whale Wars', said: "In Earthrace in 2008, we managed 23,497 nautical miles in 60 days 23 hours 49 minutes. Believe me, Earthrace was not a comfortable boat to be in, stripped down for speed as she was. However, at least our remarkable engines did most of the work and I wasn't on my own.
"Daryl is rowing over 2,000 nautical miles single-handed across one of the most unpredictable and dangerous oceans in the world. That he is doing this to raise money and awareness for issues that I also feel very strongly about such as shark finning, ocean acidification and whale and dolphin hunting only increases my admiration for this crazy Brit".
Daryl Farmer said, "I'm delighted to have the support of Peter Andre and the Cancer Research UK team as well as Pete Bethune and the Earthrace crew. This will be an enormous challenge for me personally, but preparations are going well, I'm race fit and so is the boat. I'm passionate about both the causes I am supporting and that will keep me rowing even if the going gets rough. I'm looking forward to the start now and am determined to get to the finish successfully in record time."
There are 15 boats and 38 competitors in all taking part in the Great Pacific Race which begins in June this year with crews from nine different countries including the UK, US, Australia, New Zealand, Netherlands, Canada, France and Ireland. A variety of sponsorship packages are available with benefits including branding on Bojangles, and full involvement in all media opportunities including start and finish.
Rowing4Reefs is a small and friendly team of professionals who are determined to make all partnerships work for everyone concerned. There will be full involvement throughout from communications specialists from Cancer Research UK and from Earthrace Conservation who will help exploit all opportunities for sponsors and supporters.
To make a donation, click here. Find out more at Rowing4Reefs.co.uk.