As part of a unique charity project, Wladimir Klitschko – the longest-reigning IBF, WBO & IBO heavyweight champion in history – has covered his famous fists in blue paint and punched the 26 letters of the alphabet onto canvases to create a unique, distinctive font.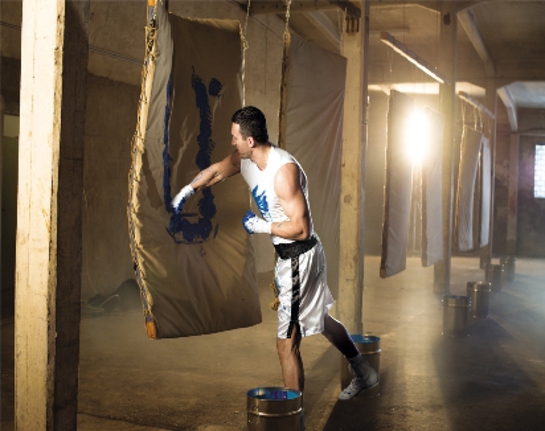 Fans across the world can download for free Wladimir Klitschko's fist-painted font from typeface provider Monotype at its e-commerce website. Voluntary monetary contributions will go to the Klitschko Brothers Foundation in partnership with German charity organization BILD's A Heart for Children charity to combat illiteracy internationally.
The art prints created by Wladimir Klitschko will also be auctioned live on Ebay over the next 10 days.
Wladimir Klitschko said: "Charity means to give something back and usually you shake hands on the red carpet and say something. But today was a little different and I've done it the way I can do it the best – with boxing! Over 250 million children around the world are illiterate and will only have a future if they have an education – today we're trying to make it happen!"
"This is a great effort by Wladimir Klitschko to bring attention to the problem of illiteracy which affects children internationally," said Frank Wildenberg, managing director of Monotype GmbH. "This campaign worked with our typeface experts to offer the public a 'fist font' that is striking, but also easy to read. We're proud that Monotype is in the corner of a world heavyweight boxing champion helping children to read."
Monotype typeface experts optimized the font to ensure quality and clarity.
Source: PR Web