United Nations Secretary-General Ban Ki-moon has again taken to the airwaves to deliver a personal appeal to the people of strife-riven Central African Republic (CAR) to lay down their weapons, come together, and end the spiralling bloodshed and inter-communal violence that has plagued the country for months on end.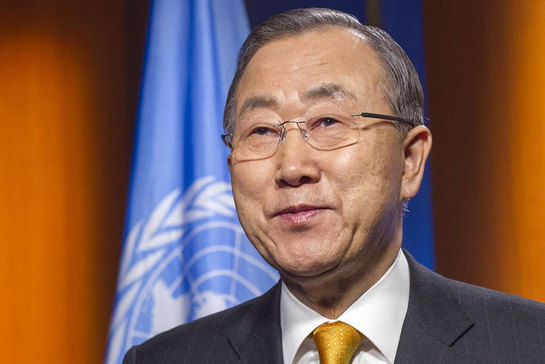 "You are not alone. Many countries are working for peace," the Secretary-General says in a video and audio message, informing the war-weary people of the CAR that he has appealed to the international community to do much more: to provide more troops and police to protect people; more aid to save lives.
Mr. Ban delivered a similar message on 13 December and today's broadcast comes on the heels of his briefing to the UN Security Council on Thursday at which he put forward a six-point initiative for addressing the country's most urgent priorities and needs, including more troops and police, increased efforts for the peace process, support for the Government, funding for humanitarian assistance and accountability.
The conflict in CAR erupted when mainly Muslim Séléka rebels launched attacks in December 2012 and has taken on increasingly sectarian overtones as mainly Christian militias known as anti-Balaka (anti-machete) have taken up arms.
Thousands of people are believed to have been killed, and 2.2 million, about half the population, need humanitarian aid. The UN estimates that nearly half a million children are among the almost 1 million driven from their homes.
In his message, which was recorded in French, English and Sango, the national language, the Secretary-General expresses his solidarity with the people and says: "I am also appealing to you, the people of the Central African Republic. End the bloodshed. Stop the killings. Lay down your weapons."
"Those committing violence are only dividing and destroying your beloved country. Muslims and Christians have built your country together. I know you will do so again," says Mr. Ban.
"I stand with you – and I pledge my full support for peace and reconciliation – justice and accountability – for all the people of the Central African Republic."
Source: United Nations