From running from bullies to running the world, Elon Musk has always stayed one step ahead. And the man whose curriculum vitae reads like the greatest hits of the 21st century is no stranger to following his passions, whether they take him into outer space on a SpaceX rocket or across the country in one of his Tesla sedans.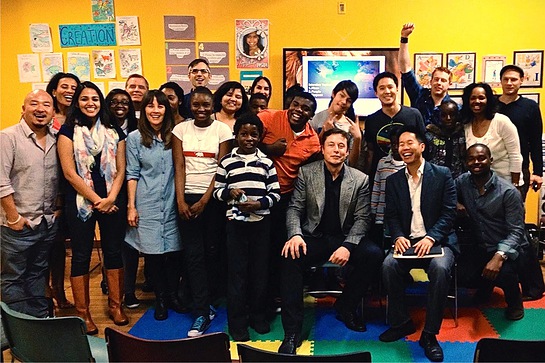 This week at a very special edition of Mondays at the Mission, a career and life skills program for homeless teenagers at Union Rescue Mission created and led by Christopher Kai, Musk shared some of his far-flung experiences with the wide-eyed class.
Despite his accomplishments, the impresario provided a humble persona, offering insight from his days growing up in South Africa to trying to find a place in the tech world as an aspiring programmer. He urged aspirational entrepreneurs in the audience to reach out to people they admired and put themselves in a position to succeed.
"Find your way to those people who inspire you," Musk said. "If you can, go to where those people will be and meet them." After exhorting the students to follow their dreams, he answered questions from the group, fielding queries about the possibility of intelligent life in the universe to how he deals with his fears.
Written by Jeremy Loudenback