In honor of National Pet Parent's Day on April 27, Deckers Dogs is teaming up with Veterinary Pet Insurance to raise money to help fund the rescue, care and training of service dogs for our military veterans returning home with disabilities.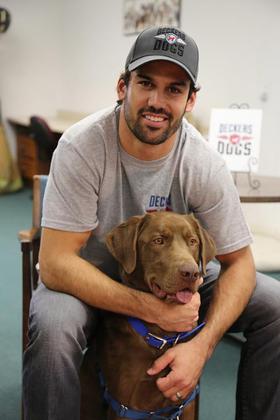 From April 22 through Memorial Day (May 26), VPI will donate $5 (up to $10,000) to Deckers Dogs for every free pet insurance quote generated on petparentsday.com.
New York Jets wide receiver Eric Decker and his wife, singer Jessie James Decker, established Deckers Dogs in September of 2013 to provide support to Freedom Service Dogs' Operation Freedom. Operation Freedom was developed to help returning war veterans and military personnel transition from active duty and combat to civilian life. Active duty service members and veterans with disabilities are placed with highly specialized service dogs that help them find a new level of independence in their post-combat life.
For a typical service dog, the journey from shelter to service costs approximately $25,000. With the help of the public's support, Deckers Dogs has already funded the care and custom training for three service dogs in just six months.
"Pet Parent's Day recognizes the human-animal bond and the commitment pet owners give to their furry family members," said Eric Decker. "We're proud to partner with VPI to help build new bonds between those rescued service dogs and our wounded warriors as we free a hero to save a hero."


Source: PR Newswire