A 30-second Public Service Announcement (PSA) for the Mount Sinai Ovarian Cancer Risk Assessment program aired for the first time Thursday, May 1, on the iconic Toshiba Vision LED signboards in the heart of Times Square, New York City.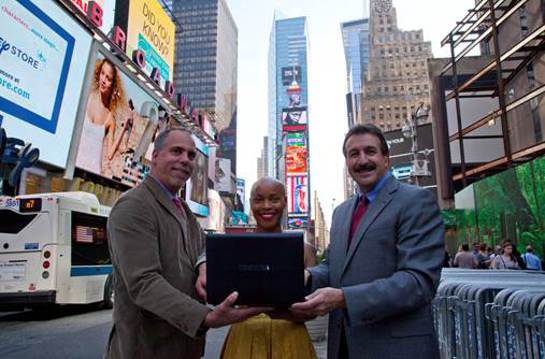 The PSA will continue to broadcast every six minutes, 24-hours per day through May 15th. David Fishman, MD, Director and Founder of the Mount Sinai Ovarian Cancer Risk Assessment Program, Valisia LeKae, Broadway actress and ovarian cancer survivor and Toshiba executives unveiled the PSA with a countdown.
"With Toshiba's help, we will create more awareness about ovarian cancer which will hopefully result in saving lives," says Dr. Fishman, professor of obstetrics, gynecology and reproductive science and gynecological oncologist at The Mount Sinai Hospital. "We are very excited to see our important message on one of the biggest screens in the world and I'm extremely grateful to my very talented patient, Valisia LeKae, a Tony and Grammy nominated actress and singer for sharing her story. "
Ovarian Cancer is the fourth leading cause of death in American women. Approximately 22,000 women are diagnosed annually and 14,000 die from the disease. "Every day that passes without a cure for ovarian cancer means the suffering and death of countless women," said Dr. Fishman. "Valisia is one of the lucky ones and she is a fighter."
"I want to thank Toshiba, The Mount Sinai Hospital, Peter Hapak and Spotco for joining forces to help broadcast the importance of ovarian cancer risk assessment and my personal journey to thousands of men and women who will see it daily," says LeKae, the 34 year-old actress who played Diana Ross in Motown the Musical and was diagnosed with ovarian cancer in 2013. "Dr. Fishman and the Mount Sinai team helped to save my life, so I want to give back by helping to educate and encourage others about this disease and the fight against it."