Last week, the seventh edition of two-time NBA MVP Steve Nash's popular charity soccer match, The Steve Nash Foundation Showdown, took place at New York City's Sara D. Roosevelt Park.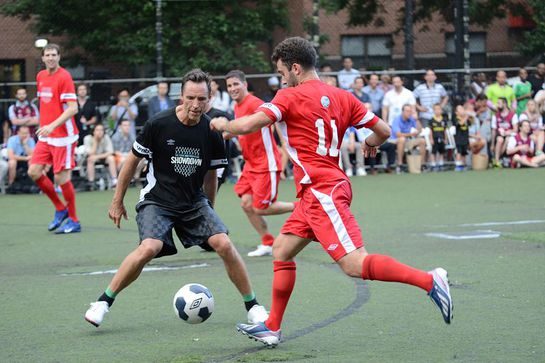 Kicking off at 6:30pm, the best players of the NBA and soccer gathered to compete at Sara D. Roosevelt Park in the Lower East Side (at Forsyth and Stanton Streets). Showdown featured professional soccer players and NBA giants in a 7-a-side game to benefit the Steve Nash Foundation's programs for underserved children.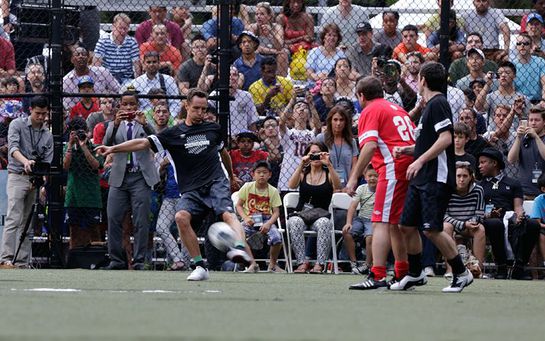 The game was a friendly yet competitive match, complete with high kicks and courageous goals; top class talent was on display. The action on the field was commentated by lead CBS sportscaster, Spero Dedes and had fans cheering on from the on-field seats, standing room access, bleacher seating, along the adjacent sidewalks and park space, and against the surrounding fence.
In its seventh year, Showdown again produced fantastic results. Although the black team led the red team 4-0 in the first half, the red team was able to make a quick comeback, but was unable to hold the ultimate lead. As the final buzzer rang, the black team declared an 11-7 win over the red team. The game was a suspenseful thriller with lead changes, equalizers and show-stopping moves at each end, yet also resembled a street pick up game: players from a host of teams and leagues finding a common love of the beautiful game.
Key players coached both teams, Hasan Salihamidzic (6-time German Bundesliga champion, Bayern Munich) and Charley Ludi (Novara Calcio) for the red team and Kyrie Irving (Cleveland Cavaliers) for the black team.
Showdown NY's team players included:
Team Black: Simone Sandri (Showdown Co-Founder), Steve Nash (Showdown Co-Founder and LA Laker), Alessandro Noselli (NY Cosmos), Kyle Martino (Columbus Crew & L.A. Galaxy), Mason Plumlee (Brooklyn Nets), Jonathan Spector (Birmingham City), Richie Williams (U.S. Men's National Under 17 Coach), Bobby Perez (Steve Nash Foundation Prizeo Winner), Enrico Zanus, and Giovanni Bartolli.
Team Red: Dirk Nowitzki (Dallas Mavericks), Giuseppe Rossi (Fiorentina), Wilson Chandler (Denver Nuggets), Jean Paul Pineda (Rangers Chilean Premier League), Jason Kreis (New York City FC), Tomas Pina Isla (Villarreal CF), Miles Joseph (New York City FC), Mike Quadrino and Marc Stein (ESPN's Soccer Today).
At the beginning of the game Giuseppe Rossi was presented with a JEANRICHARD Aluminum Terrascope for the Spirit of Showdown Award in honor of his successful soccer career and repeated contribution to Showdown over the years. While all the players performed with effortless expertise and great passion, Dirk Nowitzki set himself apart as an all around great
athlete, earning himself the JEANRICHARD Most Valuable Player Award and receiving one of the brand's new Aluminum Terrascope timepieces as well.
This year's Showdown was sponsored by Cyber Dust, Umbro, JetBlue, Major League Soccer, Jawbone ®, Microsoft Windows, JEANRICHARD, ESPN NY and Phebe's Tavern & Grill.