The Gary Sinise Foundation (GSF) is pleased to announce that it has formed a partnership with The Carrington Companies (Carrington) to provide donations and operational support for GSF's R.I.S.E. (Restoring Independence & Supporting Empowerment) program.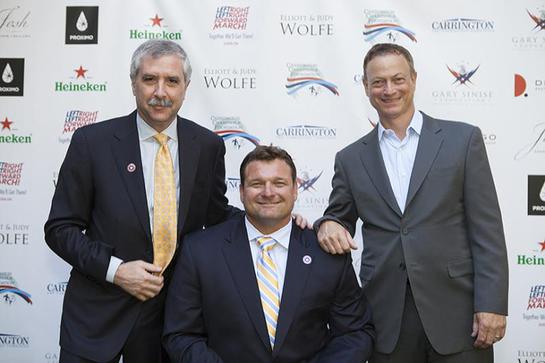 As part of the program, GSF is building Smart Homes for America's most severely wounded service members and their families.
"The Carrington Companies is the perfect partner to help the Gary Sinise Foundation build our Smart Homes and I'm very grateful for their support," said Gary Sinise, founder of the Gary Sinise Foundation. "Each project is a tremendous undertaking involving custom construction and cutting edge technologies tailored to the needs of these wounded service members and with the excellent Carrington team, we'll continue to restore independence and improve the lives of these American heroes and their families."
Carrington's non-profit organization, Carrington Charitable Foundation (CCF), will be supporting the Gary Sinise Foundation and the R.I.S.E. program through its various fundraising endeavors, including its flagship event, the Annual Golf Classic, held at the Resort at Pelican Hill in Newport Coast, California on October 6, 2014. Along with benefitting the Veterans Airlift Command, CCF's event will raise funds for GSF's custom home projects.
For more information visit: www.carringtoncf.org/golf.
In addition to fundraising support from CCF, Carrington will be donating the expertise of its real estate development group, Carrington Development Company, LLC (CDC) and real estate services group, Carrington Home Solutions, L.P. (CHS). CDC will be managing all aspects of the custom, Smart Home development, including land selection and purchasing, design management, permitting and approval, construction management, home automation, budgeting and reporting, and the coordination of the many material donations from vendors.
CHS will be providing renovation services on properties donated from major financial institutions that are then sold upon completion of the renovations. Funds from the sales are donated to the construction of Veteran's homes.
"We are honored to have the privilege of working with the Gary Sinise Foundation to support this important program," said Carrington Holding Company CEO Bruce Rose. "The Carrington Companies will bring forth all of our capabilities in securing and developing these custom homes for our country's veterans. We owe a tremendous amount of gratitude to America's service members, and are thrilled to be able to contribute to such a worthy cause."
Source: PR Newswire