On Tuesday night in New York City, Guinness & Co. raised a glass of the iconic beer in honor of the Leary Firefighters Foundation (LFF) during a special event to present the LFF a check for more than half a million dollars in support of firefighters nationwide.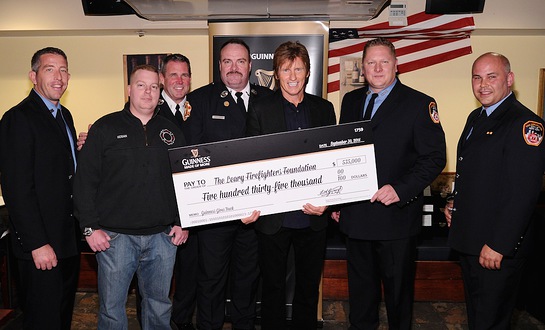 Actor and founder of the LFF, Denis Leary, joined Guinness and Diageo executives to celebrate their combined efforts to support firefighters across the U.S. Throughout the past year, Guinness raised over $500,000, in partnership with the LFF, to help provide quality equipment, education, training and technology for firefighters everywhere. Guinness and the LFF received an outpouring of personal donations and contributions from adult supporters through the brand's fundraising efforts to support the foundation as well as a significant contribution from Guinness itself.
"At Guinness, we celebrate those who are Made of More; those who carry on the legacy of our founder and our company and who demonstrate great character without asking for recognition. Firefighters showcase these qualities with the commitments and sacrifices they make every day," said Guinness Brand Director Doug Campbell. "We're very proud of the work we've done alongside the LFF and we're excited to continue that initiative to recognize individuals who do more for their communities throughout the next year."
Guinness' St. Patrick's Day 2014 program hosted a variety of fundraising initiatives through its philanthropic online hub www.GuinnessGivesBack.com, including a limited-edition firefighter themed t-shirt sold online and in select bars across the country. The makers of Guinness beer also released the Extraordinary Irish Beers Variety Pack, saluting firefighters' extraordinary character, which included Guinness Draught, Guinness Black Lager, Smithwick's Irish Ale and Harp Lager. A percentage of the proceeds from sales of the t-shirts and variety packs were donated to the LFF. The program has been part of the brand's 'MADE OF MORE' campaign, which celebrates the service and selflessness of firefighters.
"We are thrilled to continue our partnership with Guinness for a third year," said actor Denis Leary, founder of the LFF. "Since beginning our partnership two years ago, we've raised more than $650,000 to help firefighters nationwide. It's an honor for the LFF to be recognized for its tireless efforts in support of all the men and women who put their lives on the line every day; the funds raised by Guinness will help our firefighter brothers and sisters in uniform across the country."
The event also kicked off the brand's goal to raise $1 million for local firefighters by St. Patrick's Day 2015, in the third year of its partnership with the LFF. For the next several months, Guinness will publicly recognize those who make great contributions to their communities by raising a Guinness to them at a community event. The brand will carry out additional fundraising activities throughout the year to reach its $1 million fundraising goal.
Join the conversation and share Made of More moments on Twitter at @GuinnessUS. Select images and stories will be featured on the brand's Instagram feed which celebrates those who are Made of More.
To learn more about Guinness' partnership with the LFF, visit www.GuinnessGivesBack.com. To learn more about the work LFF does in support of firefighters, visit www.learyfirefighters.org.
Guinness reminds everyone while raising your glass in support of firefighters, and all the men and women who do more for our communities, to do so responsibly.