Today, evian Natural Spring Water announced a partnership with the National Breast Cancer Foundation (NBCF) and actress Lea Michele to launch evian's "Faster Than" campaign, which promotes regular breast self-examinations, a key to early detection when combined with regular medical consultation.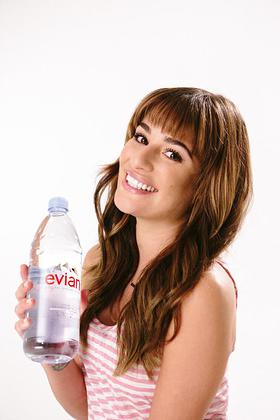 The campaign encourages women and men (yes, breast cancer can affect men, too) to perform and share news of the completed self-exam via their social media channels using the hashtag.
The hashtag #FasterThan reinforces how a simple and quick process can ultimately help save your life. It also lets people have some fun and creatively addresses one of the key barriers to self-exams – thinking that it is too complicated and time consuming.
"The fight against breast cancer is a cause that I deeply care about and a cause that I have long supported," said Lea Michele. "When I heard that evian was partnering with the NBCF to launch this campaign, it was an initiative that I wanted to be part of as regular self-examinations are the key in making a positive change in a woman's survival rate."
Three steps to participate in evian's "Faster Than" campaign:
Step 1: Perform a self-exam (visit www.evianfasterthan.com on how to best perform one)
Step 2: Share the news that you completed your self-exam on social media and what it was #FasterThan using the hashtag (FasterThan)
Step 3: Encourage your family and friends to perform a self-exam
"evian has been a longtime supporter of the fight against breast cancer. This fight is personal for many of us directly or indirectly affecting our families and loved ones. We wanted to make sure we focus our efforts on something many of us often forget – self –exams being early detection is the next best thing to finding a cure," said Olga Osminkina-Jones, VP of Marketing for evian. "Together with the National Breast Cancer Foundation and Lea Michele, we are confident that the #FasterThan campaign will encourage individuals of all ages and genders to perform regular breast self-exams."
To further support the campaign among young audiences, evian and Drai's, one of Las Vegas' hottest nightclubs, in collaboration will donate 5% of all ticket sales up to $25,000 generated during the month of October to the NBCF.
For more information on early detection including tips from the National Breast Cancer Foundation on how to perform breast self-exam, visit www.evianfasterthan.com.
Source: PR Newswire