Game of Thrones stars Lena Headey and Natalie Dormer have joined singer-songwriter and West End lead Beverley Knight to support Plan UK's new Face Up campaign.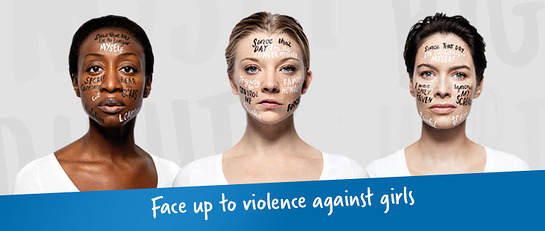 All three have had their faces adorned with the words of real girls who have experienced child marriage and female genital mutilation (FGM).
The words, including 'bear the scars,' 'violation' and 'no longer myself,' were painted on their faces by award-winning artist Marion Deuchars, who is also a Plan supporter. The striking images were shot by renowned photographer John Davis.
By putting the stories of real girls where they can't be ignored, we hope to build momentum, unite opinion and end FGM and child marriage in a generation.
It's all part of Plan's Because I am a Girl campaign, which aims to ensure that all girls can live safe from violence, go to school, marry who they want, when they want and have their voices heard.
They may be on-screen rivals in the epic power struggles of Game of Thrones, but both Lena (Queen Cersei) and Natalie (Margaery Tyrell) are united in the fight for girls' rights.
Lena says: "It fills me with hope that someday soon girls can grow up in a world that is free from these harmful practices. I urge everyone – men, boys, women and girls – to join me in standing up for girls' rights' with Plan UK."
Natalie adds: "I believe we all have a part to play in the fight to end abuses like FGM and child marriage. It's a powerful stance that we're all taking, and by uniting together we can help keep millions of girls safe from harm."
Wolverhampton songstress Beverley Knight is a Plan UK ambassador, and when she heard about the campaign was keen to be involved. She made time to be photographed for the campaign despite being in the midst of final preparations for West End musical Memphis, which opens this month. Beverley says: "Plan UK is working hard to end these harmful practices worldwide but the stories of these girls just aren't being heard. This campaign is vitally important."
To find out more about how you can add your face to this campaign, click here.
Source: Plan UK