Mediaplanet announces distribution of its first cross-platform edition of Neurological Conditions, educating Canadians on the socio-economic impact of various brain diseases and disorders, and the research being done towards innovative treatments to improve quality of life for those affected.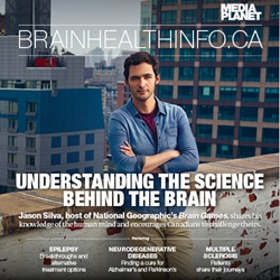 The print component of Neurological Conditions is distributed within the National Post, a circulation of approximately 160, 000 copies and an estimated readership of 420,000. The digital component is distributed nationally through a vast social media strategy and across a network of top news sites and partner outlets.
In an exclusive interview, Mediaplanet had the chance to talk to Jason Silva, the host of National Geographic's award winning series, Brain Games. He shared his thoughts on human creativity, futurism, and how we can extend the boundaries of our minds. He notes, "Knowledge is addicting. Humans get a hit of dopamine in the brain whenever we're exposed to novel stimuli… We have an insatiable urge to understand, to question, to deconstruct what is fascinating."
Another editorial featuring Carrie Maclean, mother of two, shares how she took charge of her multiple sclerosis, did her research, and played an active role in her treatment. "This is not a death sentence. This disease is manageable. You can live a long life." She adds that, "The research is changing so fast. You need to be your own best advocate."
Special thanks to Genzyme Canada, Cynapsus Therapeutics, Biogen Idec, Kalgene Pharmaceuticals, Weston Brain Institute, Epilepsy Canada, the University Health Network, Brain Canada, Ontario Science Centre and Neurological Health Charities Canada for their support and contributions in the making of this campaign.
Source: PR Web