Happy Socks and the Happy Hearts Fund (HHF) have announced that they have collaborated on a capsule collection of socks, with a portion of proceeds directly benefiting schools built by HHF in areas impacted by natural disasters.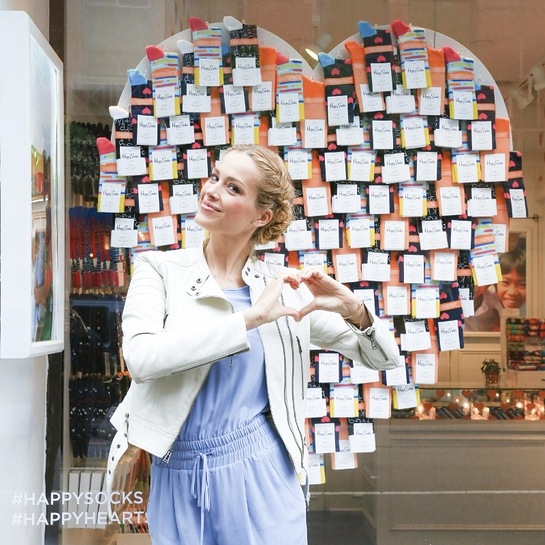 To date, HHF has rebuilt 113 safe-resilient schools in some of the world's most needy communities.
Available exclusively in the United States at the Happy Socks concept store in NYC and on HappySocks.com, the limited edition collection is designed with colorful and creative motifs that symbolize the educational mission of the HHF including pencils, chalkboard letters, and the Fund's signature orange color adorning the socks. With each pair of socks purchased, Happy Socks will donate $3 to the HHF, the equivalent of a box of pencils, directly to one of the schools that HHF has built. Retail price is $12/pair.
The founder of HHF, Petra Nemcova, created the Happy Hearts Fund several months after the 2004 Indian Ocean Tsunami, which struck while she was visiting Thailand; she sustained life-threatening injuries that took months to heal. When she returned to Thailand in 2005, she realized how much devastation remained once the immediate relief organizations departed the area. She began creating initiatives to bridge the gap between emergency post-disaster relief and fully restored infrastructure.
"My deepest gratitude to Happy Socks for this exciting 'smartnership'," said Petra. "Your initiative to support sustained response after natural disasters will help us uplift children, their families, and entire communities. Your caring hearts impact today's generation of children and future generations for years to come. Thank you Happy Socks for bringing happiness to children."
"Happy Socks and the Happy Hearts Fund share a common mission to spread happiness around the world," added Isaac E. Ash, CEO & President of United Legwear & Apparel Co. "By teaming up with HHF, we have a chance to do good in the world, and whether it's giving children pencils and chalk, socks, or building an entire school, the end result is the same: to put smiles on children's faces."
Source: PR Newswire