The Giving Back Fund's Sports and Entertainment Philanthropy Summit will take place on July 25 in Los Angeles.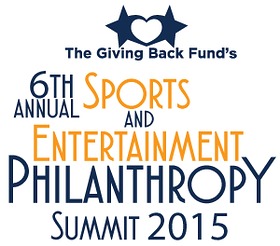 The Summit is a day long, classroom style retreat for staff and managers of foundations large and small. Through speakers and interactive panels you'll learn cutting edge information, techniques and tips for growing your established nonprofit or getting your new organization off the ground. Plus, built in networking breaks give you an opportunity to create lasting connections with other nonprofit leaders and the event speakers.
The speakers include:
Carol Cone – On Purpose, CEO
Dr. Richard Lapchick – UCF DeVos Sports Business Management, Program Chair
Jon Duschinsky – The Conversation Farm, Founder
Jay Samit – SeaChange International, CEO
Speakers from industry leading organizations will be covering:
• How to use Social Media to support your cause and grow your organization
• New Fundraising techniques and tactics that you should be using
• Regulations and Compliance issues for nonprofits you need to know
• New marketing concepts and approaches for any size budget
• Innovation in the nonprofit world and what it means for your organization
• How crowdfunding can change the way you fundraise.
• Getting celebrity participation for your cause and raising public awareness
• And MORE!
To find out more about the event, click here.