Game Of Thrones star Maisie Williams threw herself out of a plane for dolphins this week.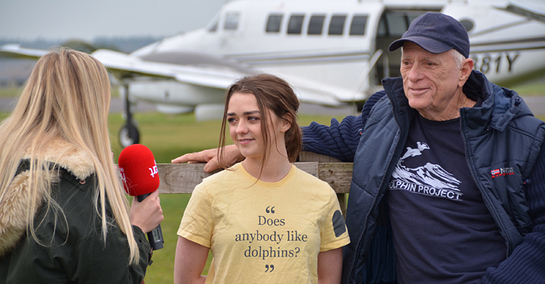 The star, who is currently appearing in the latest season of Dr Who, took to the skies for a charity skydive with Dolphin Project founder Ric O'Barry.
"The jump was fantastic!" said Maisie. "As an ambassador for Dolphin Project, I was so happy to be able to raise money and awareness for their amazing cause. It was so much fun to celebrate Ric's 76th birthday by jumping out of a plane 15000 feet in the air!"
Over $1000 was raised during the jump for Dolphin Project, which aims to put an end to dolphin exploitation and slaughter once and for all.
"Skydiving is something I have done before and enjoyed so much, so I thought, why not do it for a good cause?" added Maisie. "Doing wild things for charity brings more attention to topics I feel are really important."
To find out more about Dolphin Project, click here.