Mark your calendars for the Fashion and Arts Humanity Fete (FAHF).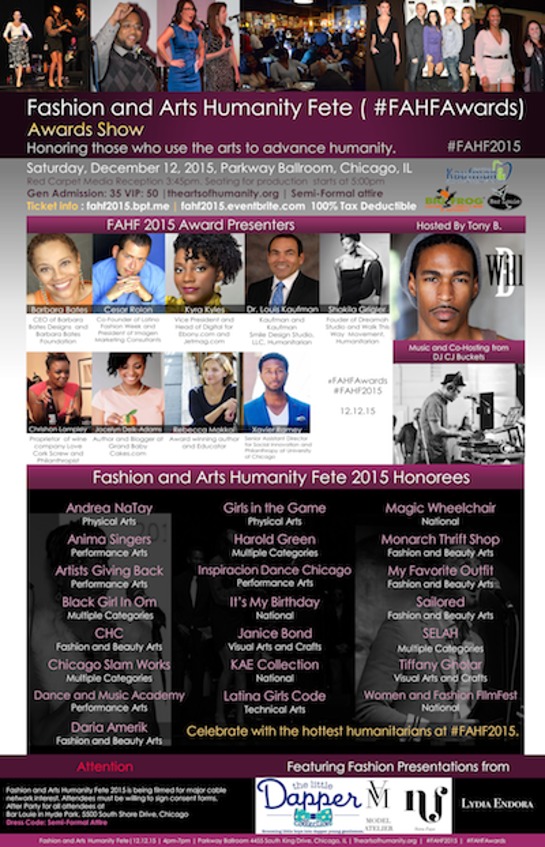 FAHF confirmed award presenters are:
• Kyra Kyles, Vice President and Head of Digital at Ebony.com and Jet.com
• Barbara Bates, CEO of Barbara Bates Designs and Founder of The Barbara Bates Foundation
• Cesar Rolon, Co-Founder of Latino Fashion Week
• Louis Kaufman of Chicago Dentistry
• Chrishon Lampley, of Love, Cork, Screw and more!
The event takes place at Parkway Ballroom, Chicago, on December 12.
#FAHFAwards, which is being filmed for major cable network interest, will commence with a full Black Carpet experience and live media interviews including confirmed media photographer Chan C. Smith of Jet and Ebony Magazine, Time Out Chicago, Empire Life Magazine, plus more. Music will be provided by the popular DJ CJ Buckets, who will be co-hosting alongside FAHF Awards Show host for the evening, Tony B., a model and actor who has been featured in McDonald's billboard campaigns and Disney Chanel. The show will open with a fashion presentation by The Little Dapper Collection and will conclude with headlining designer, Lydia Endora.
Humanitarian categories for this year include Written Arts, Performance Arts, Fashion and Beauty Arts, Technical Arts, Visual Arts and Crafts, and Nationals. The new CARES category includes all honorees, but attendees choose this recipient via a live vote. The winner receives a prize package valued at over $1,000.
"This is our 5th year and it is anticipated to be our largest production to date," said Renita S. Manley-Garrett, Executive Director of FAHF and The Arts of Humanity, and LookToTheStars.org team member. "The entire FAHF Team has been working overtime to put together something like nothing else in Chicago, the Mid West, and on a national scale. We are so excited for our honorees this year and for the remarkable award presenters who will honor them."
Tickets are available here.
Major supporting sponsors: Dr. Louis Kaufman of Chicago Dentistry and Kaufman and Kaufman Smile Design Studio LLC and Bar Louie.
Fashion and Arts Humanity Fete Awards (FAHF Awards) is presented by The Arts of Humanity, a 501c3 that develops, teaches, and recognizes creative humanitarians. All ticket sales are 100% tax deductible and proceeds go to furthering the organization mission and to the support and development of local up and coming artists and non-profits. #FAHFAwards honors entities that use the arts to advance their local community and humanity. For more information, please visit theartsofhumanity.org.