Grammy Award-winning artist Enrique Iglesias received a sweet pre-Valentine's Day surprise from Save the Children last week, just before he finished a pair of recent concerts.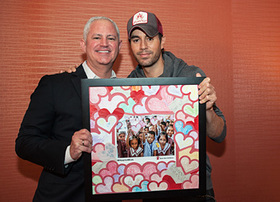 The global nonprofit presented the pop star with handmade valentines from children in Typhoon Haiyan-affected communities in the Philippines to show appreciation for the #Hearts4Kids project for kids in crises.
Teaming up with Save the Children last fall, Iglesias launched a #Hearts4Kids T-shirt to support the non-profit's Children's Emergency Fund, which allows Save the Children to pre-position lifesaving supplies before an emergency hits, respond immediately to a crisis, and do whatever it takes to protect the lives of children and create a sense of normalcy. All net proceeds from the purchase of a #Hearts4Kids T-shirt, or $12, goes to the fund.
"Disasters like Typhoon Haiyan can take a tremendous toll on children. Yet, when given the proper care and support from their families and communities, children can pick up the pieces in their lives and move forward," said Carlos Carrazana, COO of Save the Children."That is why the fund is so valuable. It allows Save the Children to prepare communities and help children to better weather the next storm."
The design of the T-shirt was inspired by the heart Iglesias drew on his bloodstained T-shirt after injuring his hand on a drone during his concert in Tijuana, Mexico last year. Iglesias' fans are able to snatch up a special shirt at certain concert venues, or can purchase the shirt with a few clicks online at www.enriqueiglesias.com.
Iglesias' #Hearts4kids partnership with Save the Children has brought in $25,000 to date for kids in crises, including funds raised from T-shirt sales and contributions from Iglesias and his fans.
Representatives from the nonprofit gave Iglesias his special Valentine's thank you right before his concert tonight.
"I am honored to receive these hopeful messages from children in the Philippines," said Enrique Iglesias, whose mother hails from The Philippines, upon receiving the valentines from Save the Children. "My fans have embraced this project in more ways than I could have imagined, and their generosity is going to make a big difference for kids in crises."
Save the Children is responding to 50 humanitarian emergencies worldwide, including the Nepal earthquake, the conflict in Syria and the migrant crisis in Europe. In 2014, the agency directly reached nearly 6 million children through its humanitarian response work.