On the heels of SeaWorld's announcement that Tilikum — the captive orca at the center of the documentary Blackfish — is gravely ill, Kate del Castillo appears in a new PETA ad, floating underwater and surrounded by the grave markers of some of the 38 orcas, or "Shamus," who have died prematurely on SeaWorld's watch.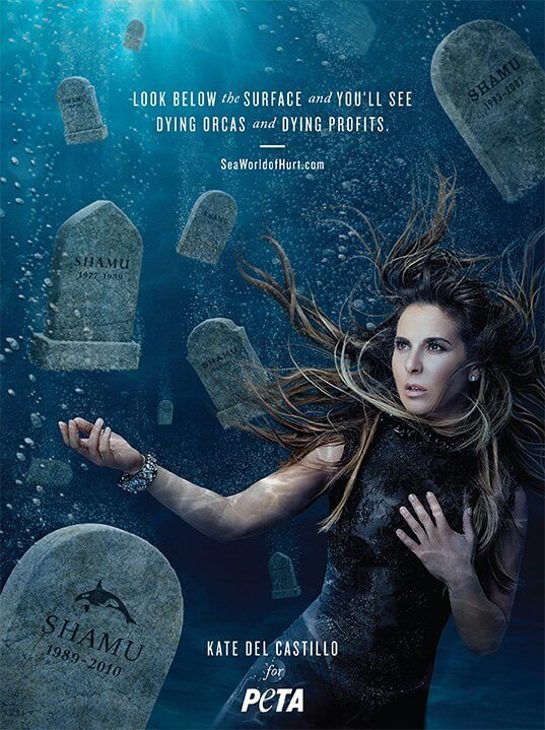 The hard-hitting ad campaign proclaims, "Look below the surface and you'll see dying orcas and dying profits."
In an exclusive video interview, the Reina del Sur, Jane the Virgin, and The 33 star points out that of the dozens of orcas who have died at SeaWorld, not one has died of old age. "They're confined in these small tanks. It's the most horrific thing. It's like you or I living in a bathtub for the rest of our lives," she says. "[They're] separated from their families …. They go crazy, and they're stressed. And they kill each other. … [I]t is devastating."
In the wild, orcas work cooperatively to find food and have complex social structures, while SeaWorld houses often incompatible groups of orcas in tiny concrete tanks. It is common for captive orcas to be dosed with the drug diazepam to manage stress-induced and aggressive psychotic behavior, and many orcas are covered with rake marks from fighting with other animals. Some fights, such as the one that killed Kandu at SeaWorld San Diego, are fatal. And it's not just the animals who are dying: SeaWorld's stock is also going downhill, having dropped an additional 11 percent after its latest earnings call just last month.