On Tuesday, May 3rd, at 26 Bridge, Brooklyn Arts Council (BAC) will celebrate 50 years of supporting Brooklyn's diverse creative and cultural community.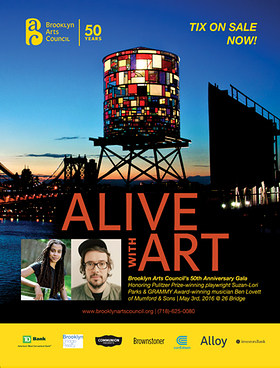 In honor of a half-century of programs that include grant support for artists and arts organizations, arts in education programs for children and adults, public performances by folk and traditional artists, fiscal sponsorship for artists applying for crowdfunded and institutional support, and technical assistance for artists early and advanced in their careers, BAC will host Alive with Art: Brooklyn Arts Council's 50th Anniversary Ceremony & Dinner and After Party.
On this special occasion, BAC will honor Suzan-Lori Parks, 2002 Pulitzer Prize-winning playwright and 2001 MacArthur "Genius" whose play, "Imperceptible Mutabilities in the Third Kingdom," BACA Downtown (as BAC was formerly called) presented in the 1980s, and Ben Lovett of the GRAMMY Award-winning band Mumford & Sons who is also a Brooklyn-based entrepreneur and business owner.
Alive with Art's inaugural after party will feature performances by Brooklyn artists Rachel Brown and The Bones of J.R. Jones with special guests, artisanal cocktails, and an opportunity to mingle with DUMBO-based creative professionals and artists and arts organizations from across Brooklyn.
WHEN:
Ceremony and Dinner: Tuesday, May 3, 2016, 6:30 PM – 9:30 PM
After Party: Tuesday, May 3, 2016, 10:00 PM – 12:00 AM
WHERE:
26 Bridge, 26 Bridge Street, Brooklyn, NY
By creating and supporting exciting cultural events and platforms for Brooklynites, Brooklyn Arts Council (BAC) provides forums for critical thinking and self-expression for young people and adults, enriches Brooklyn's cultural landscape, and generates engaging experiences that expand horizons. Alive with Art is Brooklyn Arts Council's annual gala fundraiser. All proceeds from Alive with Art support Brooklyn-based artists and arts organizations and the local populations they inspire and service.
For more info about the event, click here.