The Women's Forum of New York hosted The 6th Annual Elly Awards Luncheon this week benefiting The Education Fund of the Women's Forum at The Plaza Hotel in New York City.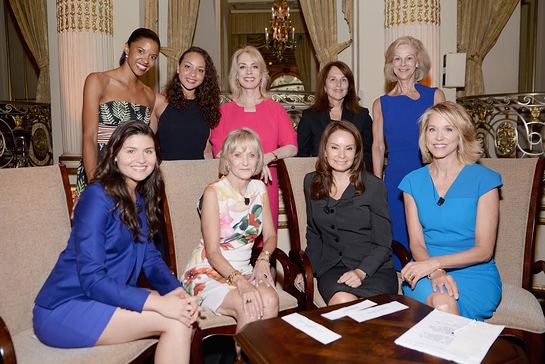 The awards, named for Women's Forum founder Elinor "Elly" Guggenheimer, were presented to outstanding women leaders, Kay Koplovitz, Founder and former Chairman & CEO of USA Networks, author, and Co-Founder and Managing Director of the Springboard Fund; Rosie Rios, 43rd Treasurer of the United States and past Managing Director of Investments at MacFarlane Partners; and Phillipa Soo, star of Broadway's Hamilton as Eliza Hamilton, 2016 Tony Award nominee and Lucille Lortel Award winner for Lead Actress in a Musical, and co-founder of The Eliza Project.
On hand to bestow the key awards were celebrity presenters Christie Hefner, Chairman of Hatch Beauty and former Chairman and CEO of Playboy Enterprises; Cathy Baron Tamraz, Chairman and CEO of Business Wire; and 2016 Tony Award winner for Broadway's Hamilton Renée Elise Goldsberry and co-star Jasmine Cephas Jones.
"The Women's Forum is a leadership organization of New York's preeminent female leaders in every professional sector, from finance to fine arts. Appreciating that education is the key to success in every industry, we pride ourselves in helping high potential women over the age of 35 return to college after their education has been disrupted by life's adversities. Giving these women a second chance to realize their potential is our way of giving back and building new leaders," said Carolyn Carter, President of the Women's Forum of New York.
"Twenty-nine years ago, the Education Fund embarked on a mission to help women, who had overcome serious hardships in their lives, to realize their dream of an education. We started out slowly, but have been able to achieve real momentum in helping these women through the Elly Awards. Education Fund grants have made a significant impact on the lives of the women who receive them, on their families, and on their communities as grant recipients earn a degree and take their place in the work world," said Linda A. Willett, President, The Education Fund of the Women's Forum.
Paula Zahn, nine-time Emmy-winning anchor of "On The Case with Paula Zahn," led a conversation at the luncheon with the honorees that revolved around leadership and covered a wide range of issues facing women in the workforce today.
VIP's who attended the event included: Carolyn Carter, President of the Women's Forum of New York; Linda A. Willett, President of the Education Fund of the Women's Forum of New York; Lucy Jarvis, Television producer and Legendary Chair of The Elly Awards; Daisey Holmes, Co-Chair, The 2016 Elly Awards; Barbara Marcus, Co-Chair, The 2016 Elly Awards; Rita B. Crotty, Executive Director of the Women's Forum of New York; Charlotte St. Martin, Carole Feuerman, Steven Pascale, Shelly Lazarus, Deidre Quinn, Josie Natori, John Castle, Mike Gregoire, Lulu Wang, Emily Rafferty, Marcia Wilson, Nina McLemore, Janice Reals Ellig, Catherine Keating, Laura Lang, Dr. Joyce Brown, Myra Biblowit, Linda Addison, Catherine Henderson, Sally Minard, Jonelle Procope, Lisa Quiroz, Jennifer Rabb, Minerva Tantoco, Abbe Raven, Barbara Tober, Anita Volz Wien, Lisa Dennison, Gloria Feldt, Elsie McCabe-Thompson, Gail Mellow and Alexandra Wilkis Wilson.
The 2016 Elly Awards Committee were also in attendance, including: Beverly Beaudoin, Principal at Beverly Beaudoin & Associates; Jane Chesnutt, former Editor-in-Chief of Women's Day; Emita B. Hill, Chair of the Women's Forum of New York Education Awards Committee; Suzanne Jaffe, Partner at Winston & Strawn LLP; Liz Neumark, CEO of Great Performances; and Ilene Wachs, President of Horizon Casualty Services, Inc. and Horizon Blue Cross Blue Shield of New Jersey.
Event sponsors included:
GOLD SPONSOR
BNY Mellon
SILVER SPONSORS
Accenture, Dede Thompson Bartlett, CA Technologies, Colgate-Palmolive Company, Deloitte, FIS, Macy's Inc., MetLife, Maria R. Morris, Norton Rose Fulbright, Sy Syms Foundation, Time Inc., Time Warner Inc., Lulu C. Wang, Linda A. Willett.
BRONZE SPONSORS
AXA, Sarah Beatty Buller, Georgette F. Bennett and Leonard Polonsky, Annabelle Bexiga and Chris McConnell, Carolyn Carter, Chadick Ellig, Commonfund, Con Edison, The Estée Lauder Companies Inc., EY, Fiduciary Trust Company International, General Electric, Great Performances and CPS Events at The Plaza, Greenberg Traurig LLP, Lucy Jarvis, Ann F. Kaplan, KPMG LLP, Monika Machon and Richard Bram, Barbara Marcus, Donna Milrod and Peter Feeney, Pearson, Muriel F. Siebert Foundation, U.S. Bank.
BENEFACTOR SUPPORTERS:
Subha V. Barry, Pamela Baxter, Beverly Beaudoin, Myra J. Biblowit, Anne Donovan Bodnar, Dr. Joyce F. Brown, Maura Carley, Vita Cassese, Change Create Transform Foundation, Jane Chesnutt, The Children's Place, Irene Cohen, Linda Cohen, Pamela Craig, Lisa Dennison, Gail D. Fosler, Nieca Goldberg MD, Jill Granoff, Elizabeth Grayer, Annette Green, Julie Greiner, Karen Grinthal, Veronica W. Hackett, Suzanne D. Jaffe, Anuradha T. Jayanti, Rikki Klieman, Gail S. Landis, Laurie Ledford, Marcella Maxwell, Nina McLemore, Marianne Parrs, Deborah A. Peacock, Jonelle Procope, Abbe Raven, Marcella Rosen, Dr. Karen Scappaticci, Denise V. Seegal, Esther Silver-Parker, Sheryl Sleeva, Marcy Syms, Barbara Tober, Eugenia Ulasewicz, Ilene Wachs, Marcia S. Wilson.
PATRON SUPPORTERS:
Lauren C. Anderson, Ellen Archer, Linda Basch, Ann E. Bergin, Kimberly Bishop, Bloomberg, The Broadway Association, Janet Corcoran, Rita B. Crotty, Diane D'Erasmo, Kathleen Dore, Marsha Dubrow PhD, Gail M. Dudack, Traci Entel, Susan Falk, Mary C. Farrell, Deborah Farrington, Gloria Feldt, Bilha Chesner Fish MD, Carolee Friedlander, Barbara J. Friedman, Fredrica S. Friedman, Ileen Sheppard Gallagher, Liliana Gil Valletta, Deborah Gillis, Dr. Ludy Green, Barbara Dwyer Gunn, Lou Hammond, Carol Hochman, Julia Kahr, Nancy J Kelley, Amy Dorn Kopelan, Ilene H. Lang, Hillie Mahoney, Gail O. Mellow, Wendy Mendenhall, Sally Minard, Carol Nelson, Nicholas & Lence Communications, Janet Rollé, Laura Sachar, Eunice I. Salton, Ann Misiaszek Sarnoff, Rosita Sarnoff, Ellen Sills-Levy, Kathryn B. Swintek, Laura Walker, Edie Weiner, Anita Volz Wien, Amy Rosen Wildstein, Jennifer Wilson-Buttigieg, Helena Wong, SUNY Chancellor Nancy Zimpher.