Sean "Diddy" Combs, the Chairman, CEO and Founder of Combs Enterprises, made a one-million-dollar ($1,000,000) pledge to the School of Business at Howard University.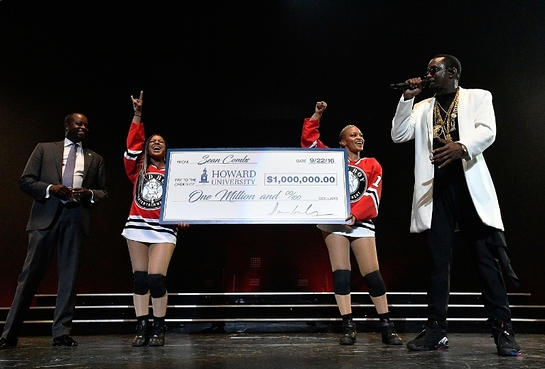 The gift, which was announced by Howard University President, Dr. Wayne A. I. Frederick, will support the establishment and operation of The Sean Combs Scholarship Fund which will help to shape a new generation of entrepreneurially spirited Bison. The pledge was made from the Verizon Center stage during Combs' Bad Boy Family Reunion Tour, a historic tour celebrating 20 years of Bad Boy Entertainment history.
This transformational contribution comes at a monumental time in the University's history, with its upcoming 150th anniversary in March 2017, and reinforces the Capstone's status as an academic citadel that continuously produces outstanding leaders. The investment in this historic institution by one of its most influential alumni is indicative of its excellence and his confidence in its bright future. Mr. Combs has helped to build the next generation of leaders by promoting a culture of philanthropy at his alma mater and encouraging all students to pursue their dreams and shape the future.
"I was blessed to receive a great education from Howard University – one of the best schools in the world – and it helped to fuel my success in business and life. This scholarship will make it possible for the next generation of leaders to pursue their dreams and achieve greatness," said Sean "Diddy" Combs. "When I delivered the commencement address at Howard, I asked the students 'Do you know how powerful you are?' I know that Howard students are intelligent, talented, passionate, and their hard work will shape the future."
According to President Frederick, "The scholarship fund that Mr. Combs has established at Howard will help provide life-altering opportunities for our students, particularly at a time when many come to Howard struggling to meet ever-increasing financial needs. The University is grateful for Mr. Combs' ongoing efforts to open doors for talented, hard-working individuals and improve their chances of navigating the way to personal and professional fulfillment."
Mr. Combs is a beloved son of Howard who has distinguished himself as an entertainer, songwriter, actor, record producer, entrepreneur and philanthropist. His professional accomplishments garnered him the highest University honors in the form of the Alumni Award for Distinguished Post Graduate Achievement in the fields of Entertainment and Business in 1999 and the Doctor of Humane Letters, honoris causa, in 2014. His remarkable success is a source of great pride for the campus community as is his commitment to graciously give back to his alma mater to ensure that current and future students have access to the stellar education that it offers.
Mr. Combs has been a longtime proponent of education and worked to expand educational opportunities for young people. In 2003, Combs ran the New York City Marathon and raised $2 million dollars to support children in the New York City Schools. He has offered support and mentoring to young entrepreneurs through his work with the Boys & Girls Club, Network for Teaching Entrepreneurship (NFTE), and other organizations. And in August, after five years of planning, Combs officially launched Capital Prepatory Harlem School, a free, public charter school in Harlem, NY. Speaking at the launch he said, "Great schools and great education make a big difference. Unfortunately, too many people don't get the opportunity to succeed, no matter how hard they try. This is leveling the playing field."
Mr. Combs credits Howard University with providing him with the education and resources needed to build and cultivate Combs Enterprises, which includes the brands Bad Boy Entertainment, Sean John, Combs Wine & Spirits (Cîroc and DeLeón), AQUAhydrate, The Blue Flame Agency, Bad Boy Touring, Janice Combs Publishing, REVOLT Films and REVOLT MEDIA & TV, as well as ENYCE, Zac Posen, and the Combs Foundation. Combs Enterprises is known worldwide for its award-winning, market-defining successes in music, fashion, fragrance, beverage, spirits, marketing, film, television, media and more.
Howard will begin awarding scholarships in fall 2017 to undergraduate Business majors who meet the criteria of a 3.0 GPA and demonstrate financial need with the creation of The Sean Combs Scholarship Fund. In addition to the financial aid component, the recipients will be provided with a summer internship at Bad Boy Entertainment or Revolt Media & TV as well as assigned a Combs Enterprises representative as a mentor. This purposeful arrangement serves to develop the immense talent existing at the University, all while providing inspiration and support for those who wish to walk a similar path as Mr. Combs.
Currently in the midst of a 20-date run, the Bad Boy Family Reunion Tour presented by Cîroc Vodka and Live Nation sponsored by AQUAhydrate, Deleon Tequila, Sean John, Macy's, Beats By Dre, Luc Belaire and Revolt Media, has garnered rave reviews, with Rolling Stone dubbing the tour the most "hit-packed of 2016" and a "walloping success, a mix of Motown revue, Broadway production and contemporary history." Bad Boy Family Reunion Tour celebrates 20 years of Bad Boy Entertainment hits. The tour resumes tomorrow night in Philadelphia, PA at Wells Fargo Center.