In a powerful new ad for peta2, PETA's youth division, the members of Union J crowd together in a bathtub to illustrate just how tiny the tanks are for orcas imprisoned at SeaWorld.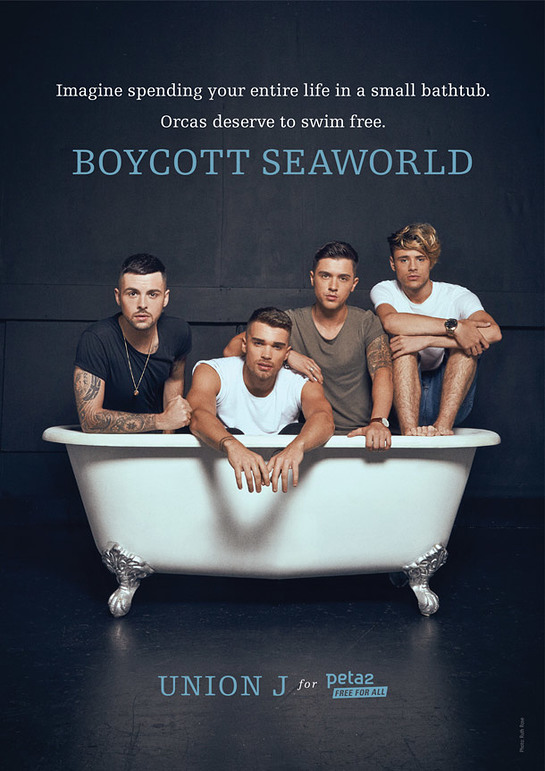 Starring in their first campaign together since Casey Johnson joined the group, the bandmates appear next to the words "Imagine Spending Your Entire Life in a Small Bathtub. Orcas Deserve to Swim Free. Boycott SeaWorld."
In an exclusive interview with peta2, Josh Cuthbert says that the documentary Blackfish led him to realize that "these beautiful, intelligent animals should not be in captivity. No animals should be in captivity." After Jaymi Hensley visited the marine park Loro Parque in Spain — where PETA has documented abuse of the orcas, who are on indefinite loan from SeaWorld — Josh showed him Blackfish, and he was equally horrified.
The band notes that while SeaWorld took a step in the right direction by ending its captive orca–breeding program earlier this year, it's not enough. Josh adds, "[W]e're not going to stop until every dolphin, every orca, and all the other amazing animals are free in sea sanctuaries."
In the wild, orcas form intricate social relationships and traverse up to 100 miles of ocean every day. At SeaWorld, they're housed in incompatible groups inside tiny concrete tanks, swim endlessly in circles, break their teeth by gnawing on metal tank bars, and are often given the drug diazepam to manage stress-induced aggressive behavior.
Union J joins a growing list of celebrities — including Little Mix, James McVey, Fifth Harmony, and Noah Cyrus — who have teamed up with peta2, whose motto reads, in part, that "animals are not ours to use for entertainment."