Positive lifestyle brand Life is Good has joined forces with World Champion Gymnast Aly Raisman to launch a new collection aimed at empowering women of all ages by celebrating courage, authenticity, kindness and unwavering optimism.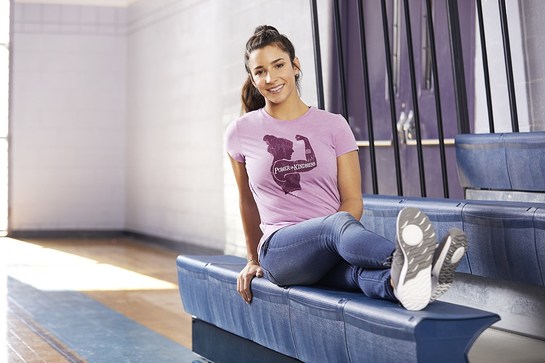 These new T-shirts are available today at LifeisGood.com/Aly.
"Partnering with Life is Good to design this line is exciting, because their brand is based on using the power of optimism to help people live their best lives, something I believe in wholeheartedly," said Raisman. "The line is a vehicle to help share values like kindness, courage, and authenticity, in order to empower the girls and women who inspire me every day. As simple as it sounds, I think everyone struggles with just being themselves, especially at a young age with so many unfair pressures. Embracing your uniqueness and just being kind are values I hope to support through this line and beyond."
The new Aly Tee Collection features three designs for women ($32) and girls ($20):
• Power in Kindness – Celebrates our strongest muscle, kindness, with silhouette artwork in Dusty Orchid
• Be Yourself – Celestial design with "Be yourself – everyone else is taken" in Night Black reminds women and girls that they are unique and beautiful in their own way
• The Bravest – Pastel American flag print with "Land of the free because of the brave" in Bright Teal is a subtle nod to Aly and Life is Good's USA pride, while also celebrating courage
"According to a recent study, a girl's self-esteem peaks when she is 9 years old, and 7 in 10 girls believe that they are not good enough or don't measure up in some way. Life is Good and Aly want to help change that. Our brand has always been about using art to get positive, meaningful messages across," said Lisa Tanzer, President of Life is Good. "Aly is such a positive role model, so to partner with her to inspire values that are central to our brand and also to her personal mission is really exciting for us. As Captain of the U.S. Gymnastics squad, Aly set a wonderful example for women of all ages, showing that positivity, kindness, and teamwork are a win for everyone. The messages on Aly's T-shirts share these same important sentiments."
To learn more about the collection, visit: www.LifeisGood.com/Aly.