US Actress and wildlife campaigner Maggie Q (Nikita, Divergent, Designated Survivor) has been in Kenya with leading conservation charity The David Sheldrick Wildlife Trust (DSWT) on a mission to raise awareness of the threats facing elephants and efforts being made to protect them.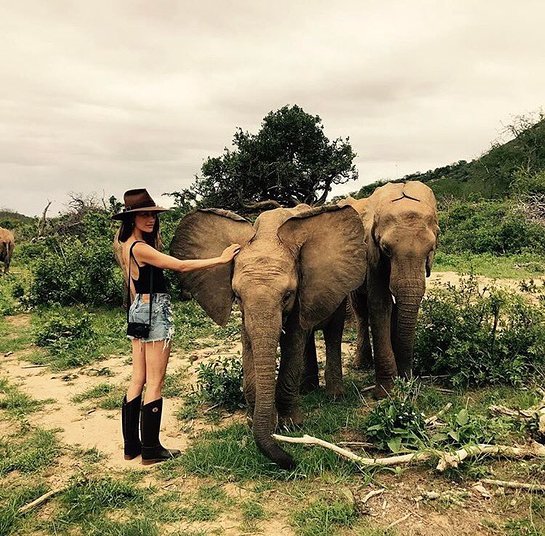 Maggie Q has joined the DSWT to learn about Kenya's elephants, with a focus on the orphaned baby elephants that are being hand reared by the DSWT until they can return to the wild when grown.
Since 2007, more than 144,000 elephants have been killed for their ivory, bringing the continent wide population down to 400,000. Visiting the DSWT's Elephant Nursery in Nairobi, Maggie met orphans of ivory poaching and human wildlife conflict as well as their dedicated carers who act as surrogate mothers and hand raise the infants, sleeping with them in their stables at night, and ensuring they never miss one of their three hourly milk feeds.
"These are elephants who have been orphaned by US yet, they still allow us to be a part of their healing — and depend on one another for the same. These animals have come from terror, pain and loss but they just want to heal," said Maggie. "It should matter to every one of us that we could wipe out a species in our lifetimes because of pure greed."
This year, the DSWT marks its 40th anniversary in the protection and preservation and wildlife and habitats. In that period the DSWT has successfully rehabilitated over 200 infant elephants, with more than 100 now grown and living back in the wild. Having pioneered the husbandry and milk formula needed to successfully hand-rear milk dependent babies, the charity also shares its knowledge with other reputable organizations across Africa, India and Sri Lanka that are caring for orphaned elephants.
Maggie also traced the reintegration journey these infant elephants will take and visited older orphaned elephants who are preparing to return to the wild at one of the DSWT's Reintegration Centers in Tsavo National Park. "Tsavo is home to the highest concentration of elephants in the country. When you spend time here, and experience an ecosystem that would be devastated without elephants — you understand how important the work of the DSWT is," said Maggie Q.
In Tsavo the actress found herself surrounded by elephants at the orphans' daily mud bath, including wild living orphans, raised by the DSWT and now fully integrated back into the wild elephant community.
Joining the spectacle were three tiny calves, born to orphans now living in the wild. They are among 25 babies the DSWT knows of, born to orphan elephants the charity has raised and is now protecting in partnership with the Kenya Wildlife Service.
"There is only one place on earth where wild elephants, orphans, ex Orphans and their wild babies come together. Ex Orphans come to visit and teach young orphans what they will soon experience and they bring their wild babies with them, knowing there is safety near the men who have raised them. The Sheldrick Trust has created a system of second chances. To stand among this, the full circle of their efforts is laid before you. It is because of the work they do, that witnessing these everyday miracles even exists. I'm brought to tears every time I see it," stated Maggie.
Elephants in the Tsavo Conservation Area, including those orphaned and living wild, are protected by 10 Anti-Poaching Teams operated by the DSWT in partnership with the Kenya Wildlife Service. These teams provide the first and last line of defence in the protection of elephants, rhinos and other wild species, targeted for their ivory, horns or as bushmeat and have been integral in reducing elephant poaching in Tsavo.
Maggie also met the DSWT pilots and field personnel who patrol the Tsavo Conservation Area spanning 60,000 square kilometres, an area almost twice the size of Belgium during a flight to the Trust's Field Headquarters. Here, she met Humpty, an orphaned baby hippo, now aged 5 months, being cared for by the Trust, who will, like the orphan elephants, ultimately be reintegrated back into the wild.
See more of the lifesaving work of @dswt on Instagram and follow @maggieq on her quest to save elephants. To support the work of the Sheldrick Trust, visit www.sheldrickwildlifetrust.org.