Colgate Bright Smiles, Bright Futures teamed up with professional pitching ace CC Sabathia this week to educate hundreds of local elementary school children on the importance of maintaining good oral health habits at the Greater New York Dental Meeting's Greater New York Smiles Program at the Jacob K. Javits Convention Center.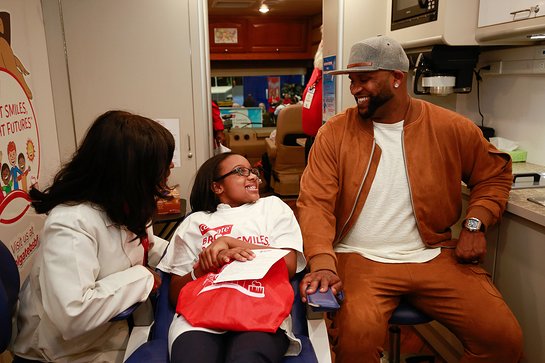 Against the backdrop of the largest dental meeting in the United States, Sabathia addressed the students, challenging them to think about oral health as an important part of their overall health and as a healthy habit that could have a major impact on their ability to perform in school and other arenas. The celebrated baseball star also led the students in a rousing cheer that reinforced the importance of healthy habits.
"Your family, teachers, and those of us here today all want you to have a future that you can smile about," Sabathia advised the students. "Listen closely to what you hear this morning, because all of you have the opportunity to be successful, and when you do, a healthy bright smile is going to come in handy."
During their visit to the Greater New York Dental Meeting, the New York City students boarded a Colgate mobile dental van for screenings performed by dental professionals. Volunteers from local hygienist schools staffed brushing stations, teaching the children proper brushing techniques, and oral health-themed videos, games, activity stations, puppets, and costumed characters encouraged the young guests to limit sugar and maintain an effective dental care routine.
Tooth decay is the most common chronic disease of childhood. Left untreated, children with cavities may have difficulty eating, talking, and sleeping. Oral health disease can also affect a child's attention span, school attendance, and academic performance, leading to significant implications for his or her social development and future success. A global oral health education initiative, Colgate Bright Smiles, Bright Futures has been raising oral health awareness among children for more than 25 years. Its fleet of nine mobile dental vans visit more than 1,000 U.S. cities and towns each year, providing free dental screenings, oral health education and treatment referrals, annually reaching nearly 10 million children.
"The importance of encouraging children to play a lead role in taking care of their teeth and gums cannot be overstated," said Dr. Marsha Butler, Vice President, Global Oral Health and Professional Relations, Colgate-Palmolive Company. "Oral health disease can be painful. It can be debilitating, but most important, it can be prevented. Someday soon we're hoping it's a challenge that none of our children have to face."
"The Greater New York Smiles program is a one of a kind program, because it gives back to the community without asking for anything in return," says Dr. Marc B. Gainor, General Chairman, Greater New York Dental Meeting. "It's a chance to offer a unique clinical experience to urban dental and hygiene students while bringing an awareness of dental access issues in NYC to oral healthcare volunteers, teachers and chaperoning parents who travel with the children to the Javits Convention Center."