On February 25, 2018, Women Like Us Foundation will present the documentary Women Like Us, Three Journeys. One Mission. To Change the World.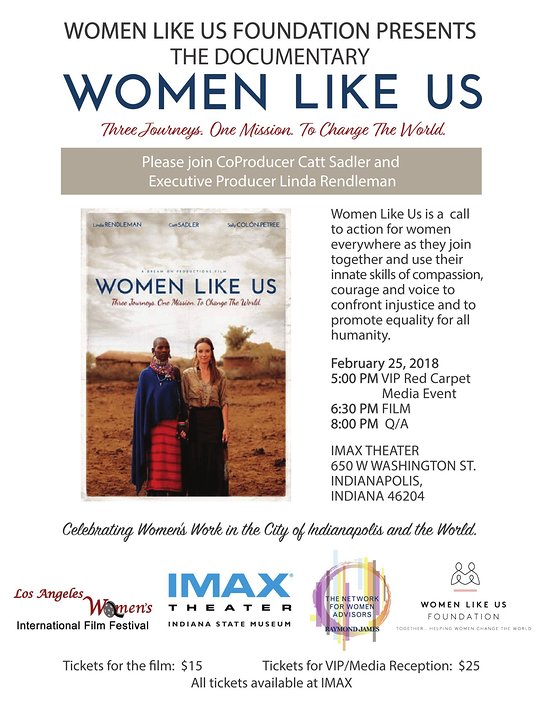 The film, executive produced by Women Like Us co-founder Linda Rendleman, and co-produced by Women Like Us Global Ambassador Catt Sadler, is a rallying cry for women to continue the fight for equality for all.
Women Like Us is a film that lifts and motivates the spirit. This story follows three women on a moving journey of exploration, adversity and evolution, in addition to witnessing the unimaginable social injustices women face around the globe. Award winning journalist Catt Sadler and her mother, Linda Rendleman, activist/author and cofounder of Women Like Us Foundation, along with Sally Colon, film director, travel the US and Kenya to engage in conversations with astounding women tackling unimaginable social injustices such as female genital mutilation, human trafficking, teen suicide, homelessness and more.
"I'm thrilled to be coming back to Indy to connect with all the wonderful women who are making change for the community. It was the first place I wanted to come to and share our film. Indy means so much to me and my mom, Linda," commented Catt Sadler.
The Women Like Us Foundation promotes gender equality and social justice through funding women's nonprofits fighting sexual abuse, mitigating homelessness, and supporting women's leadership through education. Rendleman formed Women Like Us in Indianapolis ten years ago.
Included in the film are local resident and international artist Nancy Noel who supports the NA Noel school in Kenya and Fishers resident Deb Myers, founder of the One Girl at a Time Foundation.
"Our work of 10 years has created awareness and funded initiatives led by women with an emphasis on gender equality and social justice," emphasizes Linda Rendleman, the CEO and President of Women Like Us Foundation. "This film allows us to take their stories across the country with a call to action for women to find their passion and speak their voices for change."
Event sponsors include KAR Auctions, Faegre, Baker, Daniels , LLP, Raymond James Network for Women Advisors, Baritone Sales Group, One Girl at a Time Foundation, Sharonweb Autism Foundation, Network of Women in Business and You Can Free Us.
The documentary will screen on February 25th at 6:30pm at the Indianapolis IMAX Theatre (650 W. Washington St. Indianapolis, Indiana 46204), preceded by a 5:00pm VIP/Media Red Carpet reception. Catt Sadler and Linda Rendleman will co-host a Q&A at 8:00pm, following the film.
Tickets are available at IMAX.