Red Bow Records Country star Craig Campbell put his big-hearted values on display at this week's 6TH ANNUAL CELEBRITY CORNHOLE CHALLENGE, hosting a star-studded afternoon of friendly competition to benefit Fight Colorectal Cancer (Fight CRC).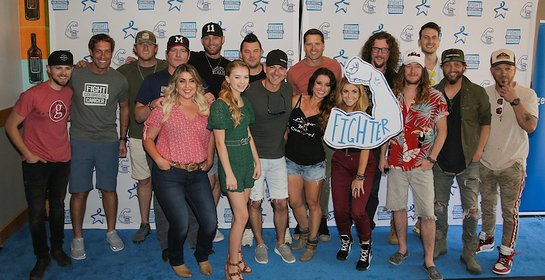 Taking place outside Nashville's City Winery, the fun-filled day scored with plenty of cornhole action – a bag-toss game popular with tailgaters all around the nation – plus a celebrity cast which featured Campbell and his wife Mindy, Russell Dickerson, Lindsay Ell, Walker Hayes, Brett Kissel, NASCAR driver Scott Lagasse, Jr., LOCASH, Tegan Marie, Morgan Mills, Jerrod Niemann, Taylor Phillips, Dee Jay Silver, The Cadillac Three and Brett Young.
Fans bid for the chance to play against the stars in tournament fashion, with Craig Campbell ultimately taking home first place.
Campbell followed up at City Winery with the One Million Strong Dinner gala, where the total amount raised from this year's event was officially revealed. Having lost his father to colorectal cancer at 11 years old, the dedicated family man is one of FIGHT CRC's national spokespersons, and has previously raised more than $300,000 for the cause.
But with Nashville's beloved CMA Music Fest getting underway, Campbell's big week is just getting started.
On Friday (6/8), Campbell will release his highly-anticipated SEE YOU TRY EP – seven diverse tracks featuring his flirtatious chart-riser "See You Try" and two versions of the critically-acclaimed "Outskirts of Heaven."
And finally on Sunday (6/10), he'll finish up as the last artist to perform on the attention grabbing Chevy Riverfront Stage. That hit-filled set will get underway at 4:45 p.m. CT, and all of Campbell's CMA Music Fest concert appearances are free and open to the public.
The week marks the beginning of a big summer for the fan favorite, who plans to headline select dates across North America following a standout 2017 which included Luke Bryan's HUNTIN', FISHIN' AND LOVIN' EVERY DAY Tour.
For more information on Craig Campbell and tour dates, visit www.craigcampbell.tv.