Conagra Brands, Inc. has presented Chance the Rapper a grant to Chicago Public Schools which ensures that more students have access to enrichment education.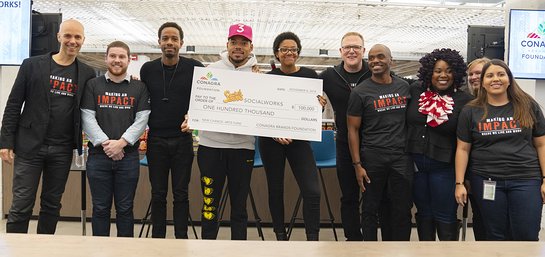 The donation is part of a multi-year grant from the Conagra Brands Foundation that will provide $300,000 to SocialWorks, the charitable organization founded by Chance, and its New Chance Fund which has impacted 20 schools and more than 6,800 students.
Conagra Brands began its partnership with Chance the Rapper, Chicago native, in 2017 in response to his commitment to donate $1 million in funding to Chicago Public Schools and encouragement of local companies to help the cause. Through SocialWorks' support of the Chicago Public School Foundation, Conagra's donation will continue strengthening curriculum, providing support materials and creating enrichment opportunities for students inside the school day, at schools that did not have existing enrichment programs and have had low ratings and budget cuts.
"We're honored to continue extending our support to Chance the Rapper, SocialWorks and the Chicago community, home of our company headquarters," said Robert Rizzo, Senior Director of Community Investment for Conagra Brands. "Conagra cares deeply about the impact it makes on areas where our employees, consumers and customers live and work, and our partnership with Chance enables us to put our values into action. Together we're making a difference by empowering today's youth with education, shaping a better future for all of us."
"SocialWorks and I are proud to share a passion for providing quality education to Chicago students with Conagra Brands," said SocialWorks' founder Chance the Rapper. "We encourage other local companies to join us in supporting our city and CPS."
SocialWorks' New Chance Fund gifts Chicago Public School schools $100,000 for three years to implement enrichment programming. To learn more about how to support Chicago Public Schools, visit www.socialworkschi.org.