Save the Storks, a pro-life organization partnering with pregnancy resource centers to empower women through education with choice during pregnancy, will be hosting their premier black tie fundraising gala, the Stork Charity Ball, on January 17, 2019 in Washington D.C.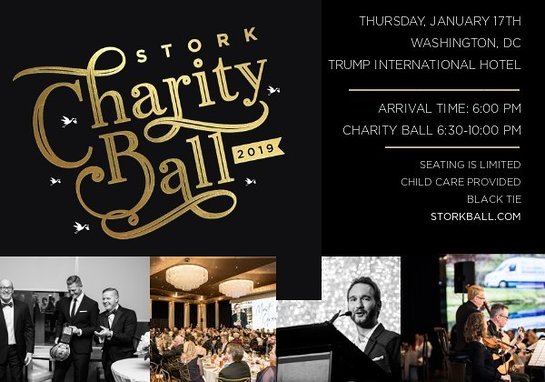 Together, guests will dine and celebrate the 5000+ lives that have been saved on mobile medical units, also known as Stork Buses. Save the Storks founder and CEO Joe Baker will share the organization's 2019/2020 vision for empowering pro-life Americans with measurable, quantifiable, and easily-accessible ways to make an impact on would-be mothers and their babies' lives.
"As hundreds of thousands descend on the nation's capital on the eve of the March for Life, we're honored to bring together supporters and influencers of the pro-life movement at the Stork Ball," said Save the Storks founder Joe Baker. "We want to shine a light on all who have stepped up as revolutionizers of the pro-life movement and honor the women and men who tirelessly work towards the goal of making abortion unthinkable."
This year's ball is co-hosted by Kirk and Chelsea Cameron. Grammy Award winning artist Steven Curtis Chapman will be the special musical guest. Speakers include best-selling author Eric Metaxas, millennial blogger and Fox News guest Alley Stuckey, Life Promotions founder Bob Lenz and Save the Storks Director of External Relations and Lifetime Television star Victoria Robinson.
Thousands of women have changed their mind about abortion after visiting a Stork Bus. Why? Going mobile is a proven method to reach women contemplating abortion, as many of them have never heard of pregnancy centers or the resources offered there. Save the Storks fully funds an innovative fleet of luxury Mercedes-Benz mobile medical units known as Stork Buses that allow pregnancy resource centers to reach these abortion-vulnerable women with love, compassion, and hope in their moment of need wherever they are likely to be – outside of clinics, on university campuses, and at public events. These mobile pregnancy centers minimize the distance and roadblocks between women who most need the help of a pregnancy resource center. To date, Save the Storks has funded 47 buses, with over 5,000 women choosing to keep their babies.
"Had information and resources like the Stork Bus been available to me when I was a young mother in crisis, I would have made vastly different choices," said Victoria Robinson, Director of External Relations at Save the Storks. "Every would-be mother has a fundamental right to understand all of her options during pregnancy, and we can't wait to see how expanding on the impact of Save the Storks will transform countless lives… forever."