Scholastic, the global children's publishing, education and media company, launches "Do Good," a campaign to encourage readers of all ages to give back and make a positive impact in their communities.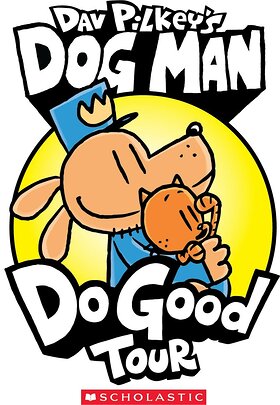 Inspired by the characters and themes in the worldwide bestselling Dog Man series by Dav Pilkey, highlights from the initiative include a transcontinental book tour featuring events with a charitable component in multiple cities across the U.S. and Asia, where Dav Pilkey will be appearing at arenas, military bases, ballparks, theaters, schools, libraries, book fairs and festivals—including being a featured author at the China Shanghai International Children's Book Fair (CCBF).
"I feel incredibly lucky and excited to have the opportunity to meet readers across the country and around the world," said Dav Pilkey. "I'm humbled and grateful for the support from booksellers, parents, and educators who are spreading the important message of doing good and bringing communities together to celebrate reading."
"The Dog Man 'Do Good' campaign highlights the power of Dav Pilkey and his amazing ability to connect with readers. Dav's on-going personal mission to give all kids access to books is inspiring. We are proud to be his longtime publisher and partner with him on this exciting new initiative," said Ellie Berger, President, Scholastic Trade.

Starting in August and continuing throughout the fall, Dav Pilkey's "Do Good Tour" will bring together kids, families, and educators, to highlight the many ways books inspire — and how each individual can help others make a positive difference wherever they are. Hosted by bookstores and key community partners, all of the events will have a "do good" component to support non-profit literacy organizations, local charities, military families, schools as well as libraries in underserved areas. The "Do Good Tour" will officially kick-off at the Mississippi Book Festival in Jackson, Mississippi on August 17th.
While in Mississippi, Dav Pilkey will make an appearance before thousands of school children from Title 1 schools. The tour will continue in St. Louis, Missouri at the Chaifetz Arena on August 18th. Additional U.S. tour markets will be announced via Scholastic's social media platforms throughout the summer. In addition to getting the opportunity to meet Dav Pilkey and hearing his inspiring story as a kid who struggled with ADHD and dyslexia, attendees at each family-friendly event will be treated to fun activities including photo opportunities with Dog Man and Captain Underpants costumed characters, signed books, giveaways, and more. Following the U.S. tour, Dav Pilkey will appear at the China Shanghai International Children's Book Fair (CCBF), with additional stops in Hong Kong and Mumbai in November, and visits to Australia and Canada in 2020. For more information and details about the "Do Good" tour, visit www.scholastic.com/davpilkey.
Scholastic, will partner with the American Library Association and ALA Graphics, also announced that the ALA READ poster and bookmark featuring original Dog Man artwork by Dav Pilkey with the message, "Be a Reading Supa-Buddy. Do Good," will be available through the ALA store starting this month. As an added resource for educators, parents, and fans of Dav Pilkey's books, Scholastic will launch a dedicated website, www.scholastic.com/davpilkey, an online hub that will provide access to free downloadable classroom activities, tour information, learn and share ideas on how students around the world are making a positive impact in their communities.