By Richard Barker on
Look To The Stars writer Richard Barker recently took part in a special charity event in the UK and filed this report:
Cancer Research UK's Race for Life is the largest women-only fundraising event in the UK. The race started in 2004 and has raised millions of pounds!
Women take part in celebration of surviving a cancer experience. Others take part in memory of a loved one or to give hope to a cancer-free future. Every pound raised in sponsorship goes towards Cancer Research's vital work. This includes funding the work of over 4,500 scientists, doctors and nurses who are dedicated to fighting and beating Cancer.
These courageous women have helped to raise over £240 million. Race for Life events take place between May and July and are open to women across the UK. There is no prize for first place – you can walk, jog or run the 5k course.
I was proud to be asked to join Atomic Kitten singer Liz McClarnon and 17,000 other runners in Hyde Park. This was the first year that the event was held in this British park. Celebrities including Liz McClarnon, Gloria Hunniford, Linda Barker and Samanda joined thousands of female runners, joggers and walkers. They helped to raise over a million pounds.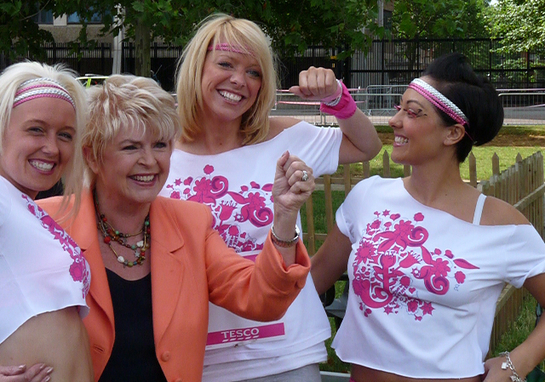 "It's a great privilege for me to be Patron of this event," said Gloria Hunniford, TV personality and a radio presenter. Gloria lost her daughter Caron Keating to Cancer and has since launched the Caron Keating Foundation, which supports numerous Cancer charities throughout the UK. "I think that Race for Life is one of the most significant events of the year with women from all over the country raising so much money for vital and valuable research into Cancer. It's an extremely emotional event with the majority of people walking, running or strolling in commemoration of someone that they have lost to Cancer or increasingly in celebration of someone who has managed to cope with and beat this hideous disease. Cancer now affects every family in this country. It's imperative that we all do whatever we can, big or small to find a cure!"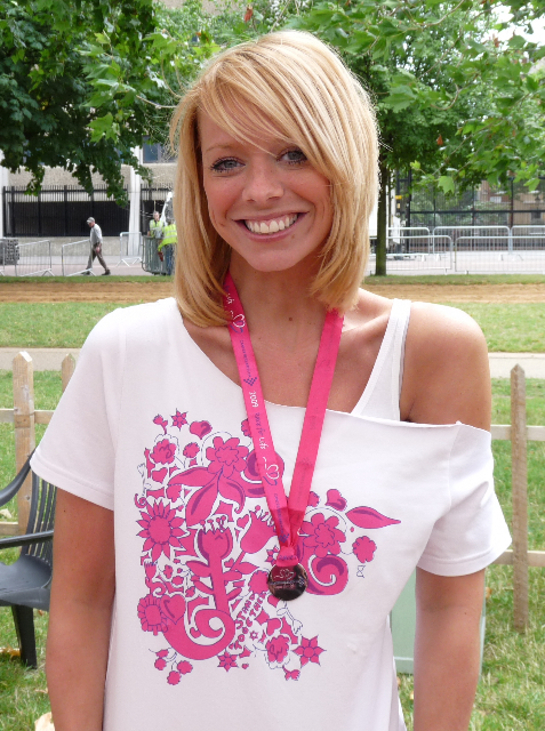 Linda Barker participated in this race for the third time and said "It's a unifying experience and the message is that no-one is on their own."
Atomic Kitten and Celebrity Master Chef winner, Liz McClarnon, designed a limited-edition T-shirt for Race for Life. Sales have already raised over £100,000 for the fight against Cancer. Liz ran the race with fellow Belta Music team mates Jaime Jay and Kayney.
Be sure to check back here for an exclusive interview with Liz McClarnon and the chance to get your hands on a very special piece of memorabilia.
To find out more about Race For Life, visit the official website.