By Tim Saunders on
A host of stars, including teenage singing and acting sensation Austin Anderson (pictured below), were out-and-about for their four legged friends in LA on Saturday night.
O'FLuFF's Lucky Charms event benefitted the Four Legged Friends Foundation's (FLuFF) work to help pets in need. Hosted by MADtv's Debra Wilson Skelton, the evening included vegetarian appetizers, complimentary animal massage, an animal communicator, an eco-friendly green fashion show (with the Pin Ups for Pups models); a doggie St. Patrick's Day costume contest, complimentary pet photography, silent auction, raffle and more.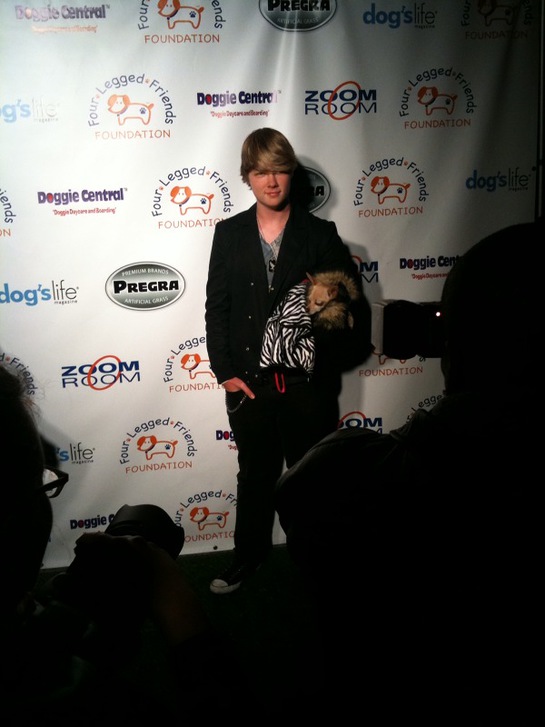 Gracing the green carpet with their presence were stars such as Pat O'Brien and his dog Mikey, Mackenzie Phillips, Scott Elrod (Men in Trees), Jaime Gomez (Nash Bridges, Training Day) and his dog Lady, Joanna Krupa, Doug Christie (NBA Player), Jackie Christie (Fashion Designer), Chani Christie (Vocal Artist), Olden Polynice (NBA Player), Daniel DiCriscio (Vh1 Greenhouse), Toni Boldi (General Hospital, Producer), London Bisset, Scott Silverman (Comedian), Laura Nativo (CBS Greatest American Dog), Jessica Kiper (Survivor: Gabon, Survivor: Hero vs. Villains), Patrick Kilpatrick (Minority Report), Alana Curry, Devin Reeves ( Producer), and many more.
The mission of Four Legged Friends Foundation is to promote programs that save family pets, increase adoptions and share the joy pets bring to people. To find out more about the charity, click here.