The Alta Bates Summit Foundation is proud to announce the 19th Annual Celebrity Tennis Classic and "Casino Royale" Gala on Saturday, October 2, 2010, at the Berkeley Tennis Club and the Claremont Resort respectively.
The all-day tournament will feature the most decorated player in the history of tennis, International Tennis Hall of Famer Martina Navratilova. Navratilova will share the day with Bay Area tennis pros and celebrities from radio, television and sports.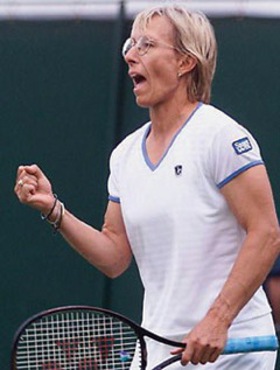 This remarkable presentation of extraordinary tennis talent represents a new high in the growth and prosperity of what is considered to be one of the most successful and longest-running celebrity charity tennis events in the United States. Over the years, the Alta Bates Summit Celebrity Tennis Classic, which continually sells out the Berkeley Tennis Club, has featured such tennis luminaries as Pancho Gonzales, Rod Laver, the Bryan Brothers (Bob and Mike Bryan), Tracy Austin, Ilie Nastase, and Monica Seles, to name just a few.
The "Casino Royale" Gala will be held after the Celebrity Tennis Classic at the Claremont Resort and Spa in Berkeley. Attendees will experience the thrill and excitement of casino gaming, sip some fine wine and other libations, dine on a delicious variety of international cuisine, and can participate in an exciting live auction and casino gaming along with Martina Navratilova and other participants from the day's tennis events.
Proceeds will support the lifesaving work of Thunder Road Adolescent Treatment Center. Established in 1987, Thunder Road is Alta Bates Summit's life-changing residential recovery program for chemical dependency for young people and their families. Having raised over $4.2 million since its inception, the Celebrity Tennis has benefited a number of other programs and services the Medical Center provides in meeting the health care needs of the East Bay Community.
Sponsor benefits can include such perks as player spot(s) in the tournament, court signage, donor recognition, tickets to the tournament and the "Casino Royale" Gala.
For information about attending, sponsoring, donating to or playing in the Alta Bates Summit Foundation 19th Annual Celebrity Tennis Classic, please contact Dorine Tanaka at tanakad@sutterhealth.org or Shirley Silverstein at silvers@sutterhealth.org at the Alta Bates Summit Foundation, telephone number: 510-204-1667. For more info about the event, Alta Bates Summit Foundation and Thunder Road, click here.