Zac Efron had a very special surprise charity message for those who attended the advance screening of Universal Pictures' Charlie St. Cloud in Melbourne, Florida, this week.
Zac made a video to play before the advance screening letting everyone know that non-profit To Write Love on Her Arms and his new movie had a lot in common.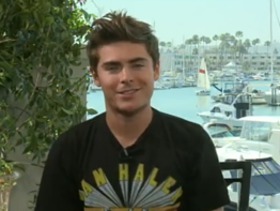 Zac stated in his video, "To Write Love on Her Arms is something truly special and there is a lot in common with the mission and this movie. Charlie St. Cloud is a story about overcoming loss and grief, about the power of love to help you discover a life worth living. I know that is a message you care about too."
TWLOHA created an evening that shared hope, help and community. "We want our supporters to feel celebrated and special," said TWLOHA founder and Melbourne Beach native Jamie Tworkowski. "We want to give them a taste of what a film premiere is like, and we love that we're able to make this happen in Melbourne."
Charlie St. Cloud deals with letting go and starting over, themes related to TWLOHA's mission of presenting hope and finding help for people struggling with depression, addiction, self-injury and suicide. As it does at its annual HEAVY AND LIGHT event in Orlando, TWLOHA plans to give every attendee information that points to local counseling and treatment resources. In addition, there will be speakers, TWLOHA merchandise available and a chance to meet the TWLOHA Team.
Based on an acclaimed novel, Charlie St. Cloud is a drama starring Zac Efron as a small-town hero who survives an accident that lets him see the world in a unique way. In this emotionally charged story, he begins a romantic journey in which he embraces the past while discovering the purpose of his life and the transformative power of love.
Watch the video here.
For more information on To Write Love on Her Arms, please go to www.twloha.com.