On Sunday October 3rd, The National Eating Disorders Association [NEDA] held its 2nd Annual NYC NEDA Walk. The event raised approximately $140,000 with more than 700 people in attendance! NEDA ambassador, plus-size model and America's Next Top Model winner, Whitney Thompson, participated and helped carry the walk banner at the front of the line.
Before the walk began, Whitney Thompson spoke to the crowd about positive body image. "I want everyone to know that they don't have to conform to the images they see in the media. Real beauty is something that cannot be found in a magazine or on TV," said Thompson. "I encourage all of you to speak out, write letters and insist that these publications work harder to promote a positive body image."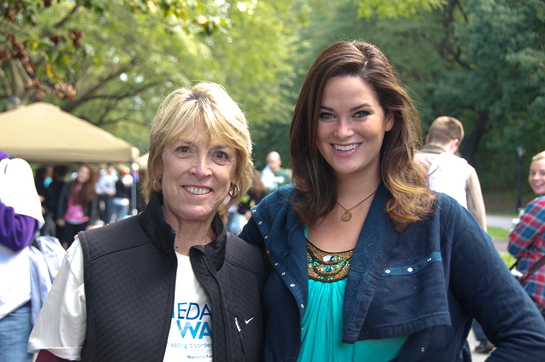 Reality star Karen Biehl, of the upcoming new series on NYC life (channel 25) called "Doggie Moms," was also in attendance with her celebrity dog, Eli the Chihuahua.
"I found the NEDA walk to be very moving and inspiring. Even for those not directly affected, the presentations and walk were a soulful reminder that no one should ever lose a loved one from something like this," said Biehl.
The NYC NEDA Walk was chaired for the second year in a row by WABC-7's Diana Williams. It included a mile stroll along the Riverside Park Promenade and an exhibition throughout the day full of vendors, such as WPLJ radio, massages, t-shirt decorating and more. The theme for the NYC NEDA Walk as "It's Time to Talk About It; It's Time to Walk About It!" because it truly is the time.
"The Walk was a fun celebration that promoted healthy body image and helped in the prevention of eating disorders. We can see that the Walk has brought hope to everyone participating both directly and indirectly. We had such a large outpouring of support that day. With all the funds raised, we have an even better chance to save lives and to eradicate eating disorders," said Diana Williams. But nobody captured the mood better than when Lynn Grefe, NEDA, CEO said "It's not the size of your hips, but the size of your heart that matters."
Photo: Katherine Decotiis