By Tim Saunders on
British soap opera Coronation Street celebrates its 50th anniversary in December, and to celebrate, the makers of the show have launched a special charity appeal.
"During 50 years of storylines, Coronation Street has covered an enormous range of social issues," says the show's executive producer Kieran Roberts. "As part of our 50th anniversary activities, the cast and crew felt it was important to give something back in the form of an official appeal.
"The three charities nominated carry out extraordinary work and we want to support them as much as possible over our anniversary months. It would be fantastic to see our viewers join in wherever they can – so that our anniversary is not just a wonderful celebration, but also makes a difference".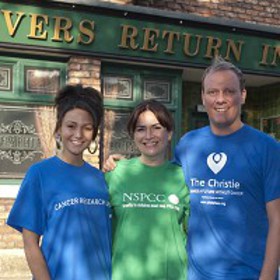 Three of the show's stars – Michelle Keegan, Debbie Rush and Antony Cotton – are shown here wearing shirts in support of the three charities chosen by the cast to benefit from the campaign – Cancer Research UK, the National Society for the Prevention of Cruelty to Children and Manchester's The Christie cancer centre.
To find out more, click here.
Earlier this week, Corrie star Samia Smith was spotted opening a Barnardo's charity vintage clothing store in Manchester.