Last week, Whitney Port, designer and star of the MTV reality show The City visited Liberia, West Africa, as part of a humanitarian mission with FACE Africa, an organization working on clean water, education, and women empowerment projects in the country.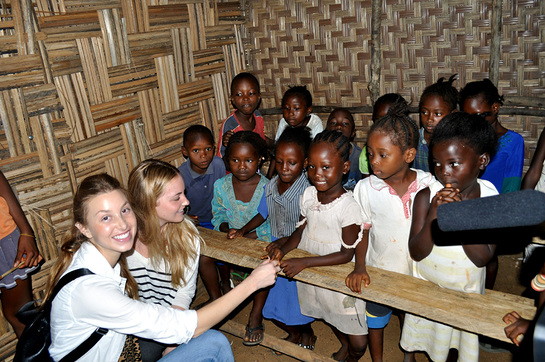 The trip was sponsored by Symphony, the Dubai Mall's first and only luxury concept boutique which carries brands like Ports 1961, Vera Wang, Thakoon, Halston, and beginning this fall, Port's line, Whitney Eve. Symphony also held a charity auction during their official grand opening in Dubai on October 7th to benefit FACE Africa's projects. The auction raised a total of $10,000.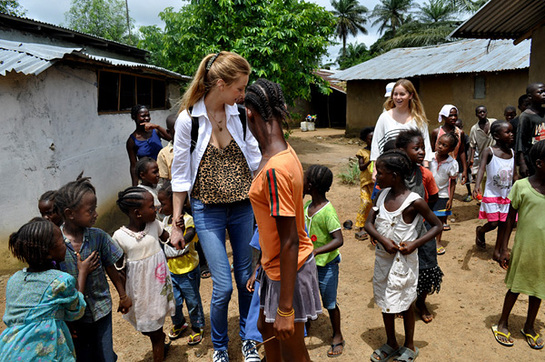 Under Symphony's sponsorship, Port spent three days in Liberia with her father, Jeff Port and her younger sister Paige. The purpose of their visit was to learn about Liberia, help raise awareness about some of the issues and challenges facing the country and explore opportunities to support the rebuilding and poverty reduction efforts.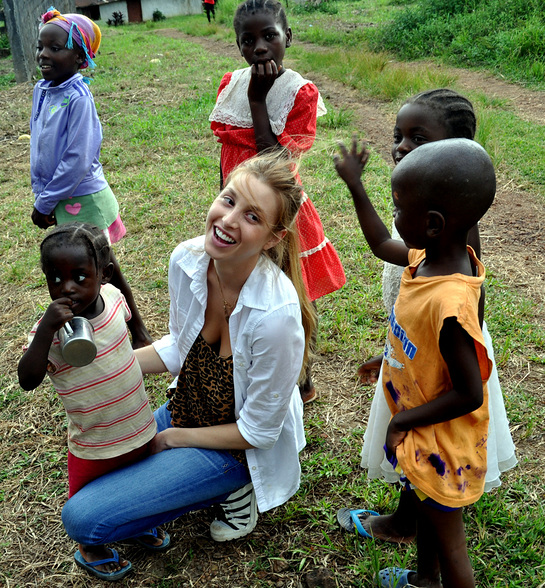 While in Liberia, Port visited and toured the Liberian Women's Sewing Project (LWSP), a sewing factory that currently manufactures t-shirts and other cotton knit apparel using fair-trade and eco-friendly practices. Port plans to manufacture some of her Whitney Eve apparel at the factory and will also be designing a line of limited edition t-shirts to be made entirely by LWSP. Proceeds from the sale of the t-shirts will go to fund projects like clean water, health, and social programs that benefit women and children in Liberia.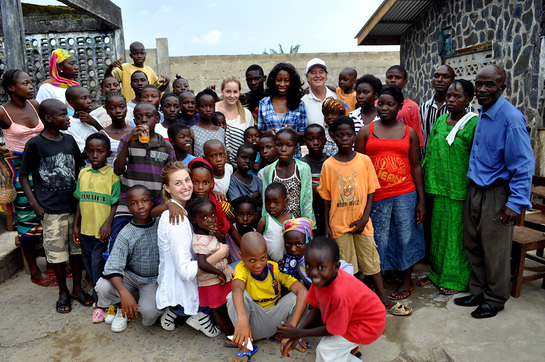 Other sites that Port visited include a village that serves as a safe haven for women widowed during the civil war, an orphanage that houses 48 orphaned and abandoned children, a tie-dye and fabric shop, and a local Liberian market. On her last day in Liberia, Port and her family got the opportunity to meet Liberian President Ellen Johnson Sirleaf who thanked them for taking the time to visit Liberia and for their interest in supporting ongoing projects.
"My trip to Liberia was truly life changing. Hopefully I can take this feeling and transfer it into something tangible for the country," says Port, who has committed to support the Help the Children Orphanage, the Liberian Women Sewing Project and FACE Africa's clean water initiatives.
The visit was facilitated by FACE Africa's founder and executive director, Ms. Saran Kaba Jones and Mr. Chid Liberty, founding partner of the Liberian Women Sewing Project.
For more information visit FaceAfrica.org and Made in Liberia.
Photos: S.K. Jones, via FACE Africa