Last weekend at Hollywood's Raleigh Studios, almost 300 actors, musicians, artists, producers, directors and philanthropists came together for the 3rd Annual Dream Awards, hosted by non-profit organization Hollywood Arts.
Honoring Caprica star Esai Morales, Marilyn producer Anthony Rhulen of FilmEngine and Dr. Howard Samuels of the Hills Treatment Center, the Hollywood community came out to celebrate and support the organization and three individuals who have spent their time and effort supporting Hollywood Art's Mission to help at-risk youth. E!'s charismatic host Michael Yo hosted the evening and kept things going with a smile, enthusiasm and a good sense of humor.
Academy Award winning actress Tatum O'Neal spoke from the heart about the "Secret Society" some Hollywood stars join before presenting Dr. Samuels with the Inspiration Award. NYPD Blue star Jimmy Smits proudly and playfully presented the Paragon Award to Caprica star and good friend Esai Morales. Per Smits, Hollywood Arts couldn't have chosen a better man to receive the Award, stating that the definition of 'Paragon', a model of excellence, was a great description of Morales, who gives back and is humble about it. Behind Enemy Lines director John Moore introduced honoree Anthony Rhulen who shared that it took him a while until he realized how much what his father did meant to the communities.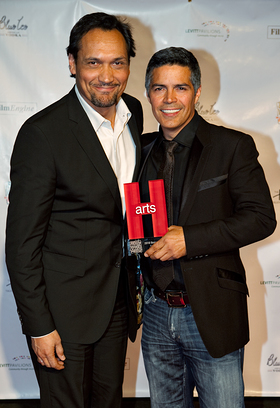 "This is a beautiful event that helps us all reconnect with the human condition and each other through the sharing of resources and experiences," said Morales after receiving his award and performing with his band. Hollywood Arts director Rachel Romanski was overwhelmed by the Hollywood community's support, "It's so wonderful when recognizable faces step forward and make a call to action. I am touched with how much thought and feelings each presenter and honoree put in their presentation. I could tell they were speaking from their heart and it means the world to the students, who need to know that nobody predetermines their future."
The real star of the night was 'Student of the Year' Chianti Edwards-Morgan, a Hollywood Arts student who, while living in shelters and on the streets, finished her High School Degree, received a scholarship, completed an internship, and for the first time in her life, moved in her very own apartment. After ABC Family star Francia Raisa introduced the honoree, who exceeded the requirements for consideration of the award by proving tremendous progress, great leadership and remarkable dedication to their future, the bright, and positive young woman took the stage and entertained the audience with her lively victory dance. Her speech was heartfelt, inspiring and real and nobody doubted that she will one day follow her dream and build an empire like Oprah.
Hollywood Arts is a groundbreaking organization dedicated to educating and empowering homeless and at-risk young adults, many of whom are former foster youth. Utilizing arts-based curriculum, Hollywood Arts helps young people improve self-esteem, develop thinking skills, master educational concepts and receive job-readiness training. Their classes, mentorships, and internships help young people in their pursuit of self-sufficiency.
Photo: Brian Wong