The old supermarket promotion of 'buy one get one free' is changing this week with the charity launch of a new eco coffee which offers shoppers 'buy one get one tree free'.
Cool Earth, Europe's fastest growing environmental charity, is launching Cool Earth Coffee this week as part of a bold move that will see it go head to head with popular brands. The tree-saving coffee will be stocked in 600 Tesco stores. Each single jar purchased will immediately protect a tree at risk of being logged in the Amazon rainforest and in turn lock in at least one tonne of CO2 making it one of the most powerful environmental products people can put in their shopping baskets.
Cool Earth supporter and iconic fashion designer Dame Vivienne Westwood OBE is giving her backing to the charity as it encourages the nation's coffee drinkers to become rainforest rescuers. She says: ""The great thing about Cool Earth is that its activities are focused on the first problem, deforestation." "It's really important we do our bit to help fight climate change, drinking Cool Earth Coffee is going to help us do that, which is really good because we can all do it."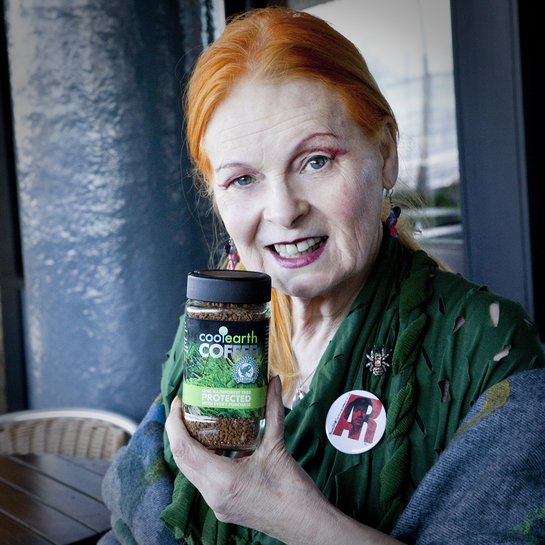 Cool Earth Coffee goes one step further than other ethical products: as well as being Rainforest Alliance – certified ensuring the coffee's production meets the highest standards in protecting biodiversity and supporting communities – 20 pence from each jar will go to the charity's community-led Peruvian project area in the Amazon where it is currently protecting 155,000 acres.
Matthew Owen, Cool Earth's director, adds: "Cool Earth Coffee is one of the most powerful environmental products people can put in their supermarket trolleys while doing their weekly shop.
"There are over 280 million jars of coffee sold in the UK annually and we want our coffee to not only satisfy people's taste buds but also their environmental conscious at the same time. By bringing out our own coffee we're able to make sure that the maximum amount of money is donated to saving rainforest."
Cool Earth Coffee is on sale in over 600 Tesco stores and also on Tesco online and at www.coolearth.org priced £2.99 for a 100g jar. It is also available in a 500g tub with each purchase protecting five ancient trees in the heart of the Amazonian rainforest.
Shoppers will be able to sign up to show their support for protecting the endangered rainforest and also see the trees Cool Earth will be protecting and ensure they remain standing as a result of the sale of each jar of Cool Earth Coffee by clicking onto www.coolearth.org/coffee.