What started as a typical day last week for two Miami-area twins quickly became a surreal experience that left one exclaiming, "I feel like a celebrity!"
In a contest led by LeBron James' longtime girlfriend, Savannah Brinson, someone in the Boys' and Girls' Club of Miami-Dade crowd was about to be selected to win a bedroom makeover, valued at $500, featuring American Signature's HomeCourt by LeBron James Collection.
"She had her eyes closed and fingers crossed whispering 'please let me win, please let me win' when Savannah announced her name and all the other kids started cheering," explained American Signature Visual Merchandising Director Robert Grimmett.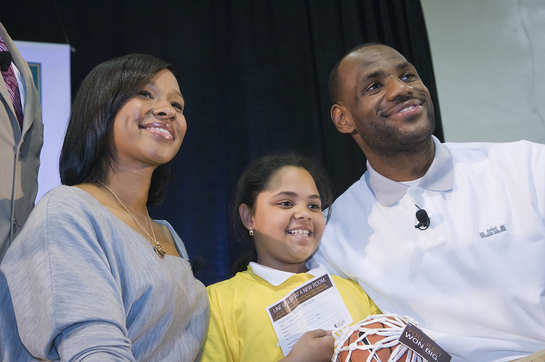 The winner (Darleny Herrera) was selected out of a drawing that all Miami-Dade Club members were entered into.
Her little mantra to win was not the act of a typical wanting eight-year-old. Rather that of a kid that at a young age had already seen too much and experienced more than enough.
"After the event at the Club, the winner, her twin sister and mother met with me to learn more about how they could maximize the shared bedroom with the HomeCourt collection," said Grimmett. "It was then we learned their story."
The family home had been robbed twice in the last eight months. "The mother explained that after the first time they replaced all that they could. But the second time – they gave up. They didn't replace any of the stolen items."
At a time when the economy, at its best is still in recovery, all it took was the commitment of one man to make the lives better for kids across the country, allowing partners like American Signature to truly step-up and help kids dream big.
"It's awesome what we could do for this family," LeBron James stated. "To give them a sense of reassurance, a life back, when they had nothing – it's what it's all about."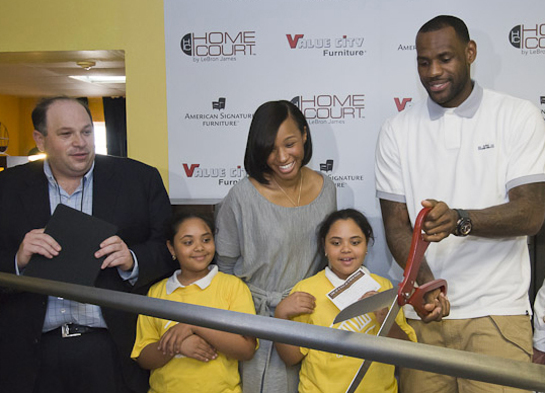 The winner (Darleny Herrera) and her twin sister (Arleny Herrera) participating in the ribbon cutting of the newly remodeled, with HomeCourt Collection Boys & Girls Club. L-R: Steve Haffer, American Signature VP of Marketing; Arleny, Savannah Brinson, Darleny and LeBron James.
The $500 bedroom makeover became a $7,000 donation that included a custom bedroom personally designed by Grimmett.
Complete with the design rendering, paint specs and enough beds for a sleepover, the new bedroom was completely outfitted in the HomeCourt by LeBron Collection with a few American Signature OMG elements to put a 'girl spin' on the basketball themed collection. And of course, the finishing touch is the surprise of LeBron autographed posters.