Street Soccer USA — a national organization teaching job and life skills to homeless youth and adults through sport in 18 cities with 75% success rate in terms of educational and job placement outcomes — presented the prestigious Sport for Social Change Award to two-time NBA MVP and seven-time NBA All-Star, Steve Nash on Friday, June 24th at the French Cultural Embassy in Manhattan.
Celebrities and philanthropists on hand included Kenneth Cole and English Premier League star Emmerson Boyce.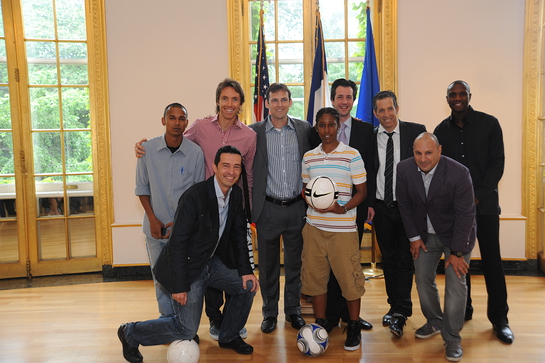 Photo: Steve Nash, Simone Sandri (NBA TV), Lawrence Caan, Antonin Boudry, Kenneth Cole, Venanzio Ciampa and Premier League player Emerson Boyce with Street Soccer USA players
"Sports has power and sports also shows people that they have the power to make a difference. It's an honor to receive this award, especially since Street Soccer USA puts two of my passions—soccer and helping people—together ," remarked Steve Nash upon receiving the award.
"Steve both personally and through his foundation sets the gold standard in term of athletes using sport to drive outcomes for a better world, which is why we are so pleased to recognize him," said Lawrence Cann, founder of Street Soccer USA and creator of the Sport For Social Change Awards.
"Steve Nash is so deserving of this award — he truly shares in a genuine way that so few stars do his time, talent, and image. Many lives have been improved thanks to this great player (in two sports!) and great man," commented Venanzio Ciampa, whose company, the Promotion Factory, sponsors the Street Soccer USA men's national team and has worked with Steve for many years in New York.
The Sport for Social Change Awards are prestigious national awards, designed to promote and drive the adoption of sport more broadly and more purposefully as a force for social good, recognizing national figures, organizations, and grassroots change agents—which leverage the power of sport to achieve measurable social good. Past awardees include Hall of Fame corner back and NFL Sr. VP of player engagement, Troy Vincent, Washington Mystics president, entrepreneur and philanthropist, Sheila Johnson, as well as businessman, sports-owner and coiner of the term "Filmanthropy," Ted Leonsis. The awards have also recognized grassroots change agents like Lisa Wrightsman who overcame homelessness through the sport-for-development program and now coaches other women in her situation.
In a precursor to Friday's awards ceremony, Nash and his NYC soccer team, the Promotion Factory, played an eight-v.-eight match against homeless and formerly homeless graduates of Street Soccer USA on Thursday evening. The fast-paced game, which was free and open to the public, took place in Sarah Roosevelt Park in New York City's Chinatown.
The French Embassy hosted the awards in honor of the 64 Nation Homeless World Cup taking place in Paris. French Cultural Ambassador Antonin Baudry presented Steve Nash a French National Soccer Jersey with "Nash" listed on the back. Currently Street Soccer USA is sending 8 men and 8 women who have overcome homelessness through the Street Soccer USA program in the last year to Paris for the games and are seeking sponsors for the last few members of the team