Angelina Jolie and her family visited HALO's global headquarters in Scotland this weekend.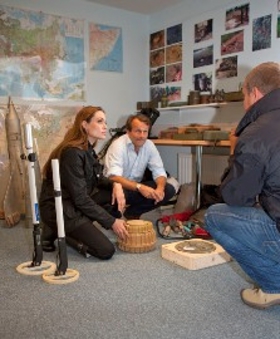 She and Brad Pitt have been long-term supporters of HALO, and visited their projects in a number of mine-impacted countries. Their financial support to HALO has run to many hundreds of thousands of pounds, funding humanitarian mine clearance teams in Cambodia, Sri Lanka, Kosovo and Afghanistan. This was her first visit to the HQ, and was a chance for a global briefing by senior HALO staff on the current landmine problem.
"It was a great opportunity for us to talk through the projects and also plan our demining priorities for the future – identifying which communities in different countries are most in need of our support," said Guy Willoughby, co-founder and Director of the Trust.
Angelina Jolie added, "It was a privilege to visit the HALO headquarters and meet their committed staff. In the aftermath of war, HALO's mine clearing efforts are fundamental to a safe return and community building."
Find out more about the HALO Trust here.
Photo: Fiona Willoughby/HALO