On Monday, three hundred guests gathered for the Downtown Women's Center's (DWC)14th annual gala, MADE with LOVE, to raise nearly a quarter million dollars for the Los Angeles based nonprofit that serves women facing homelessness and poverty in downtown's Skid Row.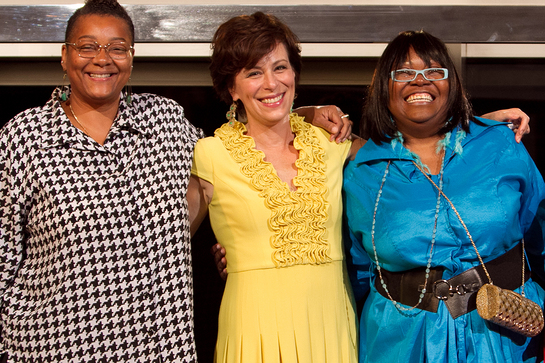 The event celebrated DWC's dramatic expansion of critically needed permanent housing and supportive services and their new social enterprise MADE by DWC.
The inspirational evening was hosted by actress Jane Kaczmarek and was held at the Music Center's Dorothy Chandler Pavilion. Several of the Ladies of DWC performed a spoken-word piece. Honorees were; Bloomingdale's for their advisory role in the opening of MADE by DWC, a café and shop that helps break the cycle of unemployment for homeless women; Munger, Tolles & Olson LLP for their pro bono legal representation for the Center's expansion, which serves 5000 women annually; and Union Bank for their continued support in ending homelessness for women.
Also recognized were; The Good News Foundation made up of several LA news anchors and reporters who created a lending library with 2000 books and beautiful furnishings at the Center; Christy McAvoy of Historic Resources Group for guidance in the restoration of the historically significant 1926 shoe factory that the Center moved into last year.
"We celebrate what we can accomplish as a community. Corporations, organizations, and over 1800 volunteers came together to create a new home for DWC. " says Lisa Watson, DWC CEO. DWC now provides 71 permanent supportive housing apartments, a Day Center that has doubled in size, and has expanded healthcare services and job training opportunities for women on Skid Row.
Guests included; Jane Kaczmarek, Mistress of Ceremonies of the event; Congresswoman Lucille Roybal-Allard; Councilwoman Jan Perry; Kathy Suto, Bloomingdale's Century City, VP and General Manager; Katherine Forster, Partner, Munger, Tolles & Olson LLP; Carl Ballton, President, Union Bank Foundation; Wendy Burch, anchor/reporter on KTLA Morning News; Christine Devine, news anchor on KTTV and KCOP; Ana Garcia, investigative reporter on KNBC-TV; Pat Harvey, co-anchor of CBS2; Dorothy Lucey, co-host and entertainment reporter for GOOD DAY LA; Christy McAvoy, Historic Resources Group.